Asian Pasta Salad
This Pasta salad is delicious, easy and packed with flavours!
I love salads, in fact most of my meals in a week are salads. I make salads of kasha, lentils and beans but not so much with pasta. The reason behind that, my husband loves pasta arrabiata sauce or pasta peperoncino, so every time I think of making a salad he asks for a normal pasta.
But that changed a few days ago, I assured him the pasta salad will be delicious and flavourful unlike the salads he gets in the cafes nearby his office. 😀
I was watching a documentary a few months ago about reducing weight and obtaining a healthy lifestyle. I have to admit it was a vegan centric (or I should say eccentric 😉 )documentary. According to the man we should exclude all the milk products, meat products and any animal products from our diet to become healthy.
I am not against veganism, at some point in my life I would like to try it just as an experiment but just not yet. But at this point I don't think to become healthy I will have to become vegan. There are 2 reasons for that, first I love my ghee and all the milk products (can't think of giving them up) and second as Mea West once said, "You only live once, but if you do it right, once is enough." or Avicii's song says "One day you'll leave this world behind
So live a life you will remember."
Despite all my thoughts, I still cook vegan food once in a while because it is detoxifying, light and low in calories most of the times. This pasta salad is one of those recipes, it's refreshing, light and packed with some amazing Asian flavours. I used my Spring onion sauce as a dressing for this sauce. It can be gluten free too if you use gluten free pasta.
So do give this recipe a try.
Ingredients:
250g spiral pasta

1 banana shallot finely chopped

1 tomato deseeded medium diced

1 green or red capsicum/pepper/ bell pepper medium diced

1 clove of garlic finely sliced

1 tbsp spring onion sauce

1 tbsp groundnut oil

1 tbsp tomato ketchup

1 tsp chilli sauce (I used Lingham's)

1 tbsp fresh mint finely chopped

1 tbsp fresh coriander finely chopped

Black pepper to taste

Salt to taste

¼ cup roasted groundnuts/peanuts
Instructions:
Cook pasta and save ½ cup of pasta water.
Heat oil, add the garlic and brown it. When its cold, pour it in a mixing bowl with spring onion sauce, ketchup, chilli sauce and 1 tbsp pasta water. Whisk it well.
Saute the green capsicum for just one minute. Keep it aside.
Mix cold pasta, shallots, capsisum, tomatoes and herbs together. Pour the dressing over the salad. Add black pepper and adjust salt. Garnish with peanuts and fresh coriander.
Serve and enjoy.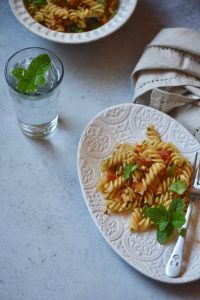 ---
---