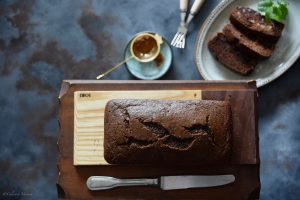 A few days ago one of the best things happened in Singapore, actually I would say the best thing since we have moved here. 😛 😀 Our dear friend moved to Singapore, yay! Her kids love eating cakes, cookies and all sweet things made of gluten 😉  the first time I went to see them I baked a cake and I forgot it at my gym. So I had to make up for it and I did by baking this soft, double chocolate, banana bread!
I usually bake orange and chocolate combination but I thought of baking something new for the kids and this was such unbelievable combination. It's loaded with chocolate, soft with banana flesh and so quick to bake. Try this combination and I promise, you will not be disappointed! 🙂
Serve this bread a little warm with a cup of coffee, my husband says it's the best combination!
Ingredients:
175 plain flour

4 tbsp cocoa powder

3 banana mashed

100 ml oil

4 eggs

1 1/2 tsp baking powder

1 tsp baking soda

1/4 tsp salt

1/2 tsp each nutmeg and cinnamon

1/2 tsp ginger powder

80 ml milk

130 g brown sugar

80 g chocolate chips




Instructions:
Preheat the oven to 160 C/ 320 F. Line the tin with baking parchment and grease it generously with oil or butter.
Mix flour, cocoa powder, salt, baking soda, powder and spice powders. Sift them 2-3 times to get rid of the lumps from cocoa powder.
Whisk eggs well. Mash banana and add sugar. Mix it well with eggs, add oil and whisk.
Add the wet ingredients to the dry, add milk, if it's a bit dry add some more milk. Fold in the chocolate chips, pour the batter in baking tin.
Bake it in a preheated oven 160 degrees for 40-45 minutes
Let it stand for 5 minutes and then transfer to a wire rack.
Serve warm.