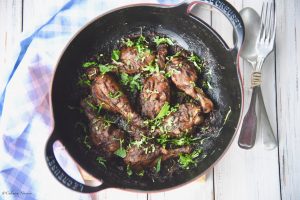 It's a very strange name but believe me this is the juiciest packed with flavours chicken you will ever eat! A few weeks ago I had some leftover marinated chicken in freezer but I did't want to make the same old grilled chicken so I came up with this recipe. I was thinking of adding wine but my husband isn't a big fan of wine flavoured chicken and I didn't have wine all I had was some Ardbeg (one of my favourite single malts), which has the most amazing smokey flavour and deep taste! I decided to make the chicken with it and tell you what, it was fantastic. I also took a bit of the chicken, it was smokey, juicy and delicious.
To make this chicken, you need to marinate the chicken at least for 1 day the longer the better. And you need any smokey single malt like Ardbeg, Lagavulin, Laphroaig 10 or Talisker as it is the star ingredient of the dish.
I served this chicken with pearl couscous but you can serve it rice as well.
Serves 3
Ingredients for Marination:
6 chicken drumsticks

½ cup fresh coriander

½ cup fresh mint

2 thai red chillies

1 tbsp groundnut or peanut oil

1 tbsp lime juice

1 tsp lime zest

1 tsp black pepper powder

½ tsp salt

1 tbsp garlic paste
Instructions:
Marinate the chicken in the above mentioned ingredients at least for 1 day. The longer the better.
Ingredients for cooking:
2 small onions finely sliced

4 garlic cloves finely chopped

1 tsp or to taste red chilli powder or cayenne pepper

2 tsp smoked paprika

1 tsp clove powder

½ tsp ginger and cinnamon powder

¼ tsp nutmeg powder

¼ tsp powdered jaggery or sugar

1 cup smokey single malt

¼ cup water

Salt to taste

Mint and coriander for garnishing

1 tsp oil

1 tbsp butter
Instructions:
Heat oil, add onion and sauté for 10 minutes on a low flame till it becomes golden.
Add in the chicken and fry till brown. Add in the spice powders, salt and butter, coat the chicken well.
Add ½ cup single malt and sauté on a high flame and add water. Cook till the chicken is almost done.
Add in the rest ½ cup single malt in and cook till it evaporates.
Garnish with coriander and mint.
Serve with rice or couscous.