I was having some friends over for a dinner and I was running out of time to make a dessert, I know, really poor planning on my part and I was a bit tired. 🙁
But I saved the day by making this delicious and unique cake, I love lemon thyme and orange blossom water and I have baked a few things using these but this was the first time I was baking with figs so I wasn't sure how it was going to come out. Well the combination worked and the cake was delicious. I served this cake with plain vanilla ice cream and everyone seemed to enjoy it.
So this is how you make this cake!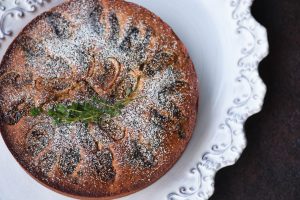 Ingredients:
1 ¼ cup plain flour (all purpose flour)

120 g unsalted butter (room temperature)

3 eggs

175 g sugar (you can use 1 cup)

2 tbsp milk

1 tbsp orange zest

1 tsp orange blossom water

A few sprigs of lemon thyme picked

10 figs cut lengthwise

1 tbsp chia seeds

1 ½ tsp baking powder

¼ tsp salt

1 tsp butter for greasing
Instructions:
Preheat the oven on 180C/350F.
Line the cake tin with baking parchment and grease it with butter.
Mix the flour with salt and baking powder, whisk it well or sift it for 2-3 times. Keep it aside.
In a standing mixer with a paddle attachment cream the butter and sugar. When it's light and creamy add 1 egg at a time. Now add in the orange zest, blossom water.  Whisk it well but don't over mix as the eggs can break down.
Fold in the thyme and the flour in 3 batches. Add milk and fold it well. Take the air bubbles out by tapping the cake tin on the counter.
Place the figs in a circle on the top, sprinkle the chia seeds on the top.
Bake it in the preheated oven for 35-37 minutes or a toothpick inserted in the centre comes out clean.
Cool it on the wire rack, dust some icing sugar if you want.
Serve it with coffee.
Enjoy.