This Persimmon Coconut Pudding is my second entry for the Le Creuset Singapore Christmas Collaboration.
I was brainstorming for this collaboration, and one of the things I wanted to make was a dessert or rather a pudding because no Christmas dinner is complete without a good pudding, right?
I wanted to create something without refined sugar, something gluten-free and of course, vegan. I wanted some Christmasy flavours in there, so I decided to make this Persimmon Coconut Pudding!
This Persimmon Coconut Pudding is soft, cake-like and oh so moist and delicate!  I had never made any cake or pudding in cast iron pots, casseroles or dutch ovens, so I was a bit worried about the outcome. But I like taking on challenges, and I wanted to make something using this beautiful  Oval French Oven, so I decided to go ahead with this recipe. 
For the fruit, I chose Persimmon because it has that delicate taste and goes quite well with the coconut milk and gives that soft, moist texture to baked goods. And then on top added roasted orange slices to give that festive feel to this dessert. 
This Persimmon Coconut Pudding makes a perfect pudding for a big party, and it is a rustic dish. You can serve this pudding warm with a dollop of Vanilla Ice cream.
After baking this Persimmon Coconut Pudding my whole house was smelling incredible, the aroma of those spices with coconut milk and Persimmon is heavenly!
So do this delightful recipe a try!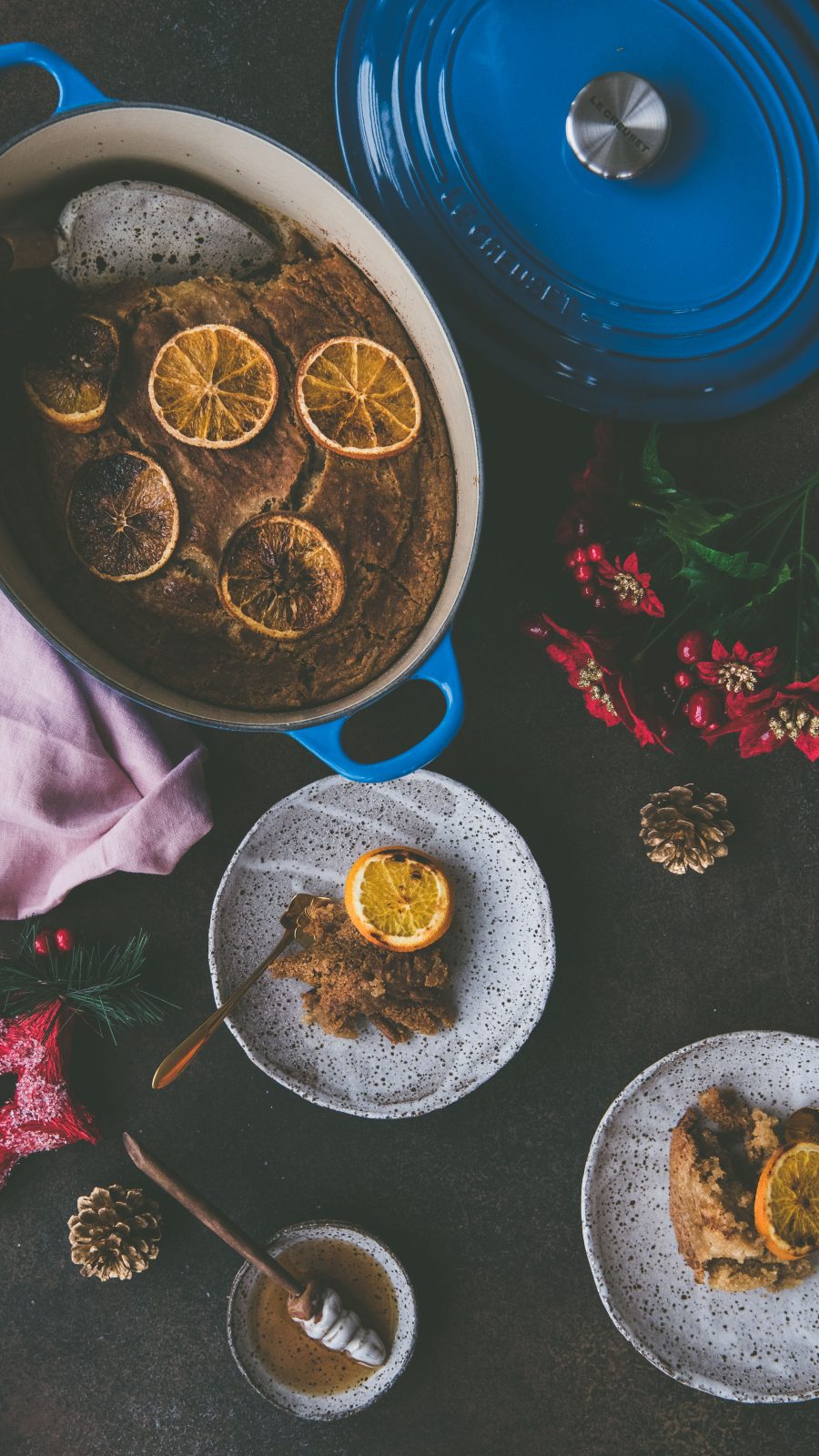 Persimmon Coconut Pudding
A delightful vegan, gluten-free pudding perfect for Christmas dinner!
Ingredients
2 3/4

cups

gluten-free flour

1 1/2

tbsp

baking powder

1

tsp

baking soda

1

tbsp

guar gum

if your gluten-free flour doesn't have

1 3/4

cup

coconut milk

aboutn340 ml

1

cup

Persimmon puree

1/4

tsp

clove powder

1

tsp

ginger powder

1/2

tsp

cinnamon powder

1/2

tsp

nutmeg powder

1/2

tsp

salt

1

cup

maple syrup

6

tbsp

coconut sugar

6

slices

of orange

1

cup

coconut oil
Instructions
Preheat the oven to 180C/375F. Oil the Oval French Oven generously with coconut oil.

Sift the gluten-free flour, salt, all the spices, baking soda and powder 3 times to make sure there are no lumps.

Mix the persimmon puree with coconut milk, oil, coconut sugar and maple syrup. Whisk it for 2-5 minutes.

Now add in the flour in 3-4 bathes. Mix well and make sure there are no lumps. Pour this batter in the greased pan and distribute it evenly.

Bake it in the preheated oven 0n 180C/375F for 15 minutes then reduce the temperature to 160C/320F and bake it for about 35-40 minutes or till the toothpick inserted in all the sides comes out clean. The baking time differs from oven to oven.

Let the pudding rest for 10 minutes. Then cut in squares and serve with vanilla ice cream.
For Orange Slices
Place the orange slices in a lined baking tray and place it on the lower rack in the last 25 minutes. Garnish the pudding with the orange slices before serving.