Lamb chops are one of the easiest things for me, my husband loves it and I can just make a salad with it and the meal is done! As you can see most of my recipes are easy, quick and of course delicious, this one is no less in that list. It's the easiest lamb chop you can make and trust me you don't an oven or a grill, just a pan and a gas will do plus it takes only 6-7 minutes to make.
I served these fantastically flavoured lamb chops with hummus, garlic bread and a roasted sweet potato salad. Try this recipe and impress your friends.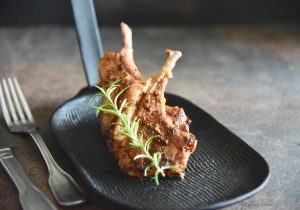 Ingredients:
2 lamb chops

2 tsp garlic paste

1 tsp chopped thyme (fresh or dried) I used fresh

1 tsp chopped rosemary

1 tsp smoked paprika

1 tsp crushed black pepper

1 tsp lemon juice

1 tsp olive oil

1 tsp salt

1 tsp olive oil for pan frying
Instructions:
Rub the lamb chops with thyme, rosemary, smoked paprika, black pepper and salt (use coarse salt). Pour 1 tsp olive oil and lemon. Mix well and keep it in the fridge for minimum 2 hours.
Heat a frying pan and add 1 tsp oil oil. Add in the marinated lamb chops, press them firmly for 30 seconds, leave it for 3-4 minutes then flip to the other side. Repeat the step and leave for 3-4 minutes. Each side 3-4 minutes will give you medium rare, which is what I and my husband like.
Take it out and put it in a serving plate, rest for a few minutes and then serve.
Serve it with mashed potatoes or roasted potatoes.
Enjoy!