Since I became a professional in the food industry, I didn't have much time on my hand to work out or to be more active (I know these are all excuses 😉 :P) The result is I have put on a few pounds and in addition I suffer from hypo thyroid so it does't help my situation. It's an ongoing battle for me and I love to create new, healthy and exciting recipes in my diet.
A few days ago, I didn't have many things in my fridge and I was dying (exaggerating 😉 ) of hunger and whatever ingredients I had in my pantry, I came up with this gorgeous salad recipe. When I create my recipes, I always look for low glycemic index food and sweet potatoes are high in glycemic index when you bake them, so to turn this recipe into a healthier one, you can steam them.
Try this salad recipe and stay healthy!!! 🙂
Ingredients: 
2 sweet potatoes peeled and cut in big chunks
1 red onion finely sliced
1 chilli finely chopped (optional)
2 tsp finely grated ginger
1 tsp grainy mustard
1 tbsp lime juice
Black pepper and salt to taste
1 tbsp olive oil
1 tbsp feta cheese

Directions:
Roast sweet potatoes in preheated oven for 15 minutes on 210 Celsius/ 410 Fahrenheit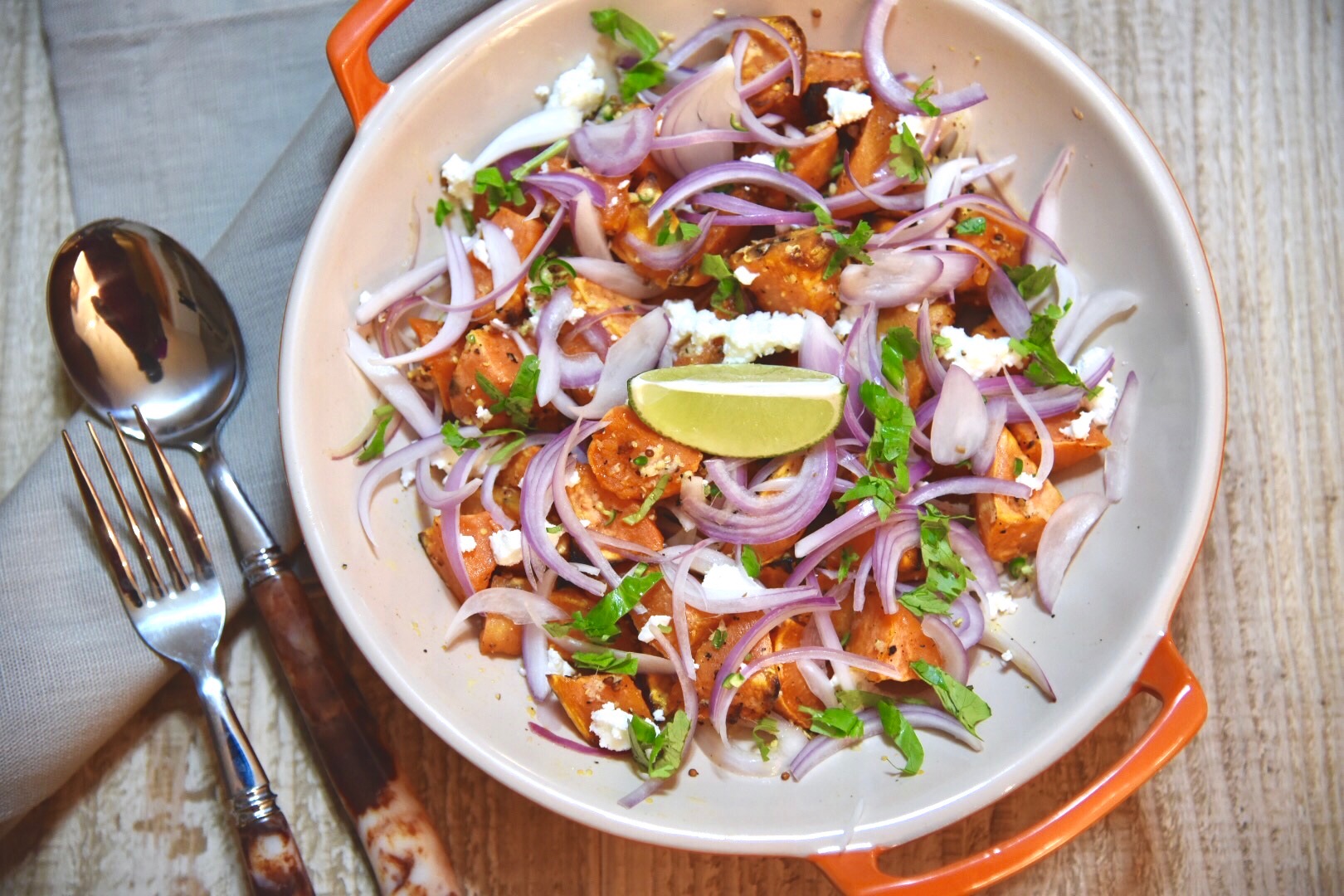 .
Make a dressing of olive oil, ginger, mustard and lime juice. Dress the sweet potatoes in this dressing, add salt, black pepper and chilli.
Garnish the salad with crumbled feta cheese and coriander.
Serve and enjoy.