Butternut Squash Soup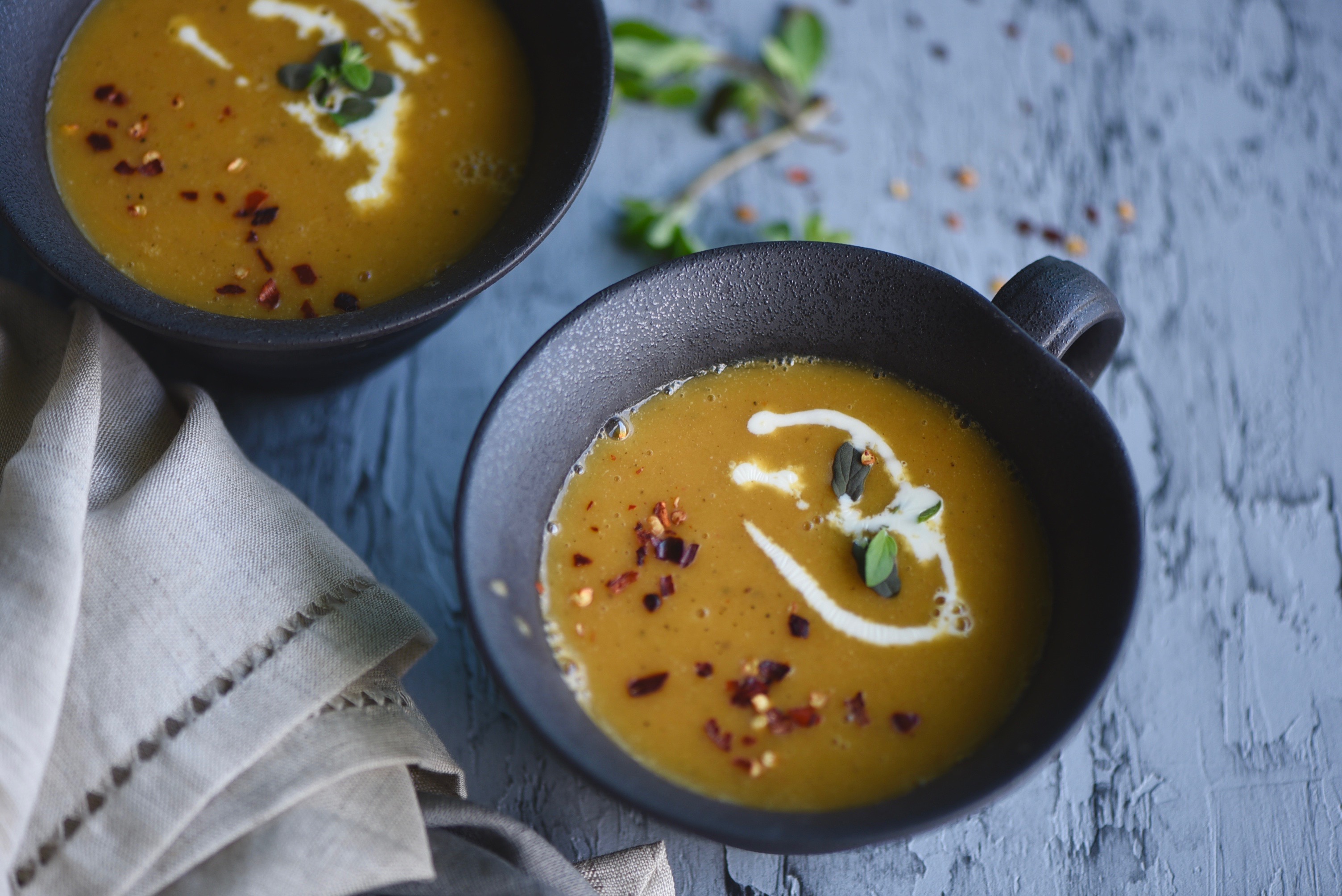 Falling leaves of autumn, a beautiful cool breeze just before the sunset and bowl of warm butternut squash soup was picture perfect for most evenings in autumn in Tokyo.
There is something really comforting rather merry about soups and for me that has to be a butternut squash soup. The creamy texture, mild spice and enticing sweetness of the squash has all my heart.
There was a story I read when I was a kid about a man who is traveller and how he visits an old woman on a frosty night, and how he gets her to make a bowl of warm soup for him. Every time I think of soup somewhere in my heart I have the feeling of yearning of smelling that book because the story was so well written, I could smell it in those words. I could never understand how could a bowl of warm soup can be so comforting, I found that feeling when I moved to Tokyo.
After hot days and nights of 4 months I used to eagerly wait for the autumn for two reason, a lot of pumpkins, butternut squash and many bowls of warm soup and breads. All those beautiful memories remain a memento of the bygone days, albeit the feeling of wanting a warm bowl of soup even of balmy days still remains the same.
This butternut squash soup recipe is one of my absolute favourites, it has a spicy taste of curry powder, sweetness of squash and a delicate flavour of marjoram.
I like to pair this soup with pan fried fish or simple grilled chicken.
Check out the link for the my favourite Fish Bites recipe.
Do try this recipe!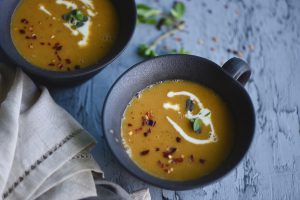 Ingredients:
1 kg butternut squash peeled and cut in chunks

150g onion finely chopped

2 cloves of garlic finely chopped

A few sprigs of thyme and marjoram

½ tsp saffron

Red chilli flakes to taste

1 tsp or to taste black pepper powder

½ tsp curry powder

1 tbsp honey

¼ tsp nutmeg powder

1 tbsp butter

1 tbsp olive oil

Salt to taste

1 ltr vegetable stock

120 ml cream or coconut cream
Instructions:
Coat the butternut squash in oil, salt and pepper. Roast it for 45 minutes in a preheated oven.
In a saucepan heat butter and oil together, add the onion and garlic. Sauté for 5-7 minutes till the onion is soft, add in the chopped herbs and roasted squash. Cook for 10 minutes.
Add in the salt, saffron, spice powders and honey, mix well and add the vegetable stock. Boil for 30-40 minutes till the squash is soft, make a puree.
Pour it back in the saucepan, add cream and boil for 5 minutes, to check the consistency of the soup, coat the back of the spoon with soup, draw a line, if it stays separate the soup is done.
Garnish the soup with herbs and red chilli flakes. Serve with a piece of bread.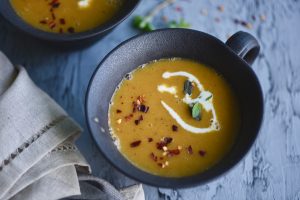 ---
---