I am not a connoisseur when it comes to spirits, cocktails, wine, I am a trained chef and I like to use my judgement, knowledge in creating different types of drinks. I am also not a big fan of cocktails, I like hard drinks or wines, but since we have moved to Singapore we have almost stopped drinking wine, hence I find myself creating new drinks or cocktails.
After a productive day I like to fix myself a good drink and enjoy the evening peace, in Tokyo we both used to drink wine or whiskey but in Singapore because of the hot weather I find myself drinking a lot gin. Just a few days ago I was tired of my sickness and wanted to just calm my nerves so I came up with this drink. I can guarantee you, you will love this drink as much as I and my friends did. For this drink I used Hendrick's gin which is one of my favourite once but you can use any gin you have.
This is how I made it.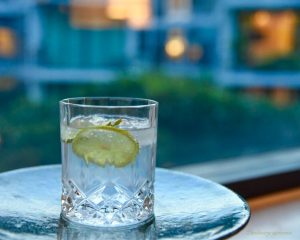 Ingredients:
30 ml or 3 cl Hendrick's Gin
15 ml or 1.5 cl Cointreau
1 cube of ice (you can use more, I don't like to dilute my drink)
250 ml tonic water
2 lemon or orange slices
A dash of angostura bitters (optional)
Directions:
In a glass place ice, pour both spirits and top it up with cold tonic water.  Sprinkle the bitter.
Place the lemon or orange slices and stir.
Drink and enjoy.. 😉