This Healthy Pasta Sauce is a new revelation for me!
We love our pasta, be it a simple Peperoncino or Arrabiata or with some pesto, we love them all. I make different types of pasta sauces, mostly tomato-based but I am the biggest fan of Peperoncino and my Kale Pesto Pasta. Recently I did an event for my friend, and we had a ton of vegetables left, I don't particularly appreciate wasting food, so I offered I would make something out of them.
In that vegetable bunch, I had carrots, red peppers/capsicum, celery and a few tomatoes. I didn't want to make a soup, and I had never made a Pasta Sauce with these vegetables, especially carrots. So after racking my brains, I decided to make this Healthy Pasta Sauce!
 This Healthy Pasta came together in about 35 minutes in the Thermomix, and what makes it healthy? I am glad you asked, all the vegetables are cooked on 120C/ 250F which keeps all the nutrients intact.
The key to a good pasta sauce is the balance of herbs, spices and right tartness. The carrots and red peppers in this Healthy Pasta worked really well; it balances the acidity of those canned tomatoes.
To make this Healthy Pasta Sauce more flavourful, I added a few sprigs of rosemary and thyme and to give more depth of flavour; I added 1 red chilli. Trust me, that chilli packs a punch!
This Healthy Pasta Sauce goes well with spaghetti, meatballs and even as a pizza base. So give this recipe a try!
Non-Thermomix recipe is coming soon!
So this is h0w you make this recipe!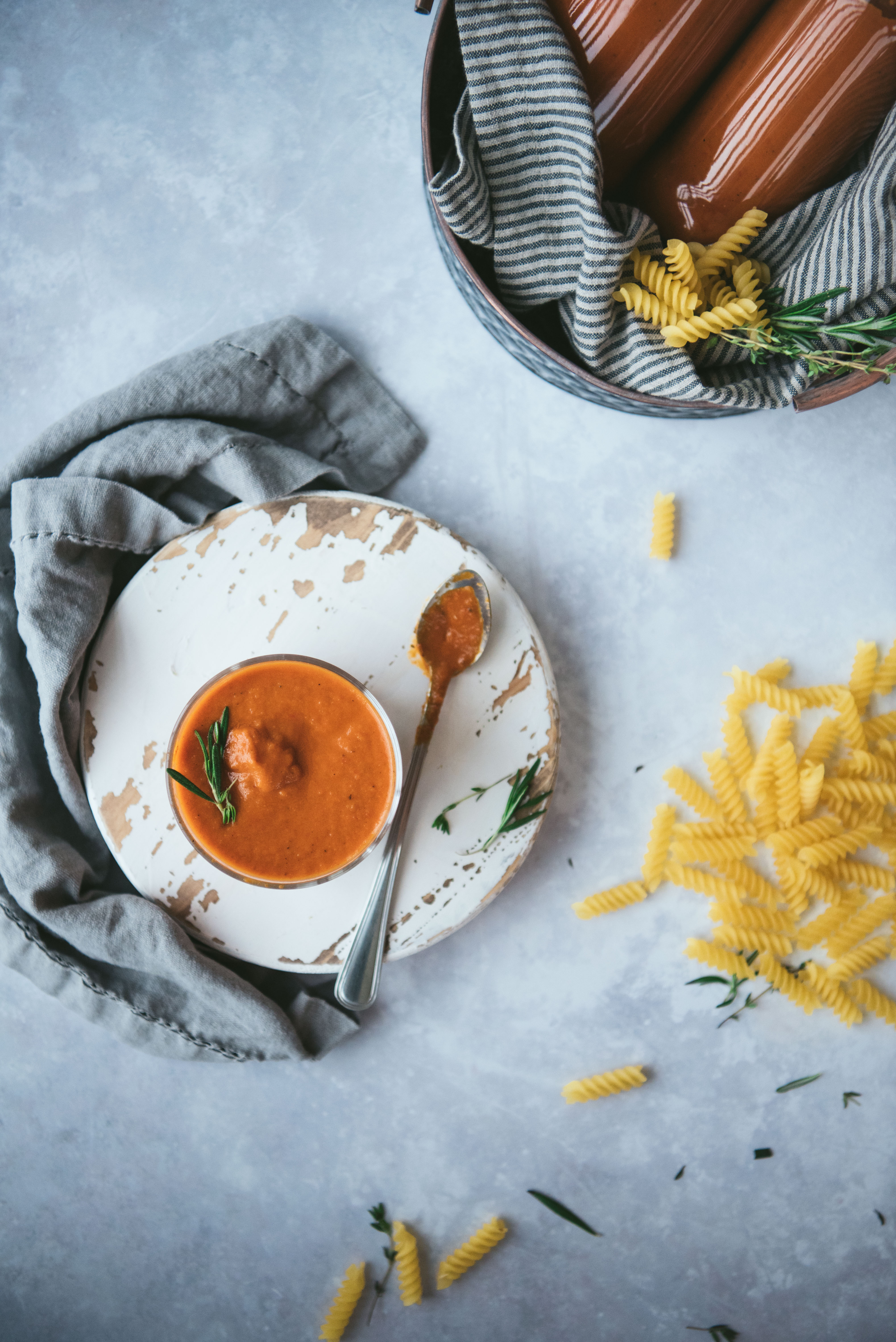 Healthy Pasta Sauce
A perfect healthy pasta sauce for pasta, meatballs and pizza!
Ingredients
1

can

diced tomato

about 400g

2

nos

shallots

cut in halves

4

cloves

garlic

1

nos

red chilli

optional

120

g

celery

roughly diced

200

g

carrots

roughly diced

250

g

red capiscum or red pepper

roughly diced

3/4

cup

water

1

tbsp

vegetable stock paste

or 1 vegetable stock cube

salt

to taste

1

tsp

brown sugar

2

tsp

crushed black pepper

or to taste

1/2

tsp

red chilli flakes

1

sprig

of rosemary and thyme

1

tbsp

olive oil
Instructions
Place shallots, garlic and chilli in the Thermomix bowl, chop on speed 5 seconds on speed 7.

Now add the celery and chop on speed 5-7 for 10 seconds. Add in the olive oil and cook on speed 1.5 on 110C/230F for 5 minutes.

Add in the carrots, capsicum (red peppers) and chop on speed 7 for 10 seconds. Add in the water, vegetable stock paste or cube and can of diced tomatoes.

Add in the salt, chilli flakes, crushed black peppercorns and herbs. Cook on 110C/230F on speed 2 for 15 minutes.

Add sugar, mix well and cook for 5 minutes on 120C/250F on speed 2.

Now blend the sauce on speed 4-8 for 45 seconds.

Pour it a bowl and let it cool. Store it in a sterilised glass bottle keep it in a refrigerator for 1 week or in freezer up to 3 weeks.

Use it for pasta, pizza or meatballs.