This "Mix Seafood Curry" is an absolute delight if you are a seafood lover!
Whilst working on a Christmas collaboration with Le Creuset Singapore, one of the recipes I wanted to do is some sort of curry and more so a seafood curry. I didn't want to make a traditional curry, the idea in my head was Catalan Fish Stew, but I wanted to give my Indian and South Asian twist to it, so I decided to make a Mix Seafood Curry with some of my favourite flavours.
This Mix Seafood Curry is a beautiful amalgamation of flavours from Goan cuisine which hails from West India, where there is a Portuguese influence and from one of my favourite cuisines, Thai Cuisine.
This Mix Seafood Curry is refreshing, has a slight sweetness and has a robust flavour of Indian spices. This curry goes really well with plain steamed rice. This curry is light and low in calories if you are watching those calories on holiday, but I can guarantee you, there is no compromising on flavours here!
I made this Mix Seafood Curry with halibut fish a delicate white fish, but you can use a fish of your choice or even cod, haddock or hake.
So this is how you make this uber flavourful, Mix Seafood Curry!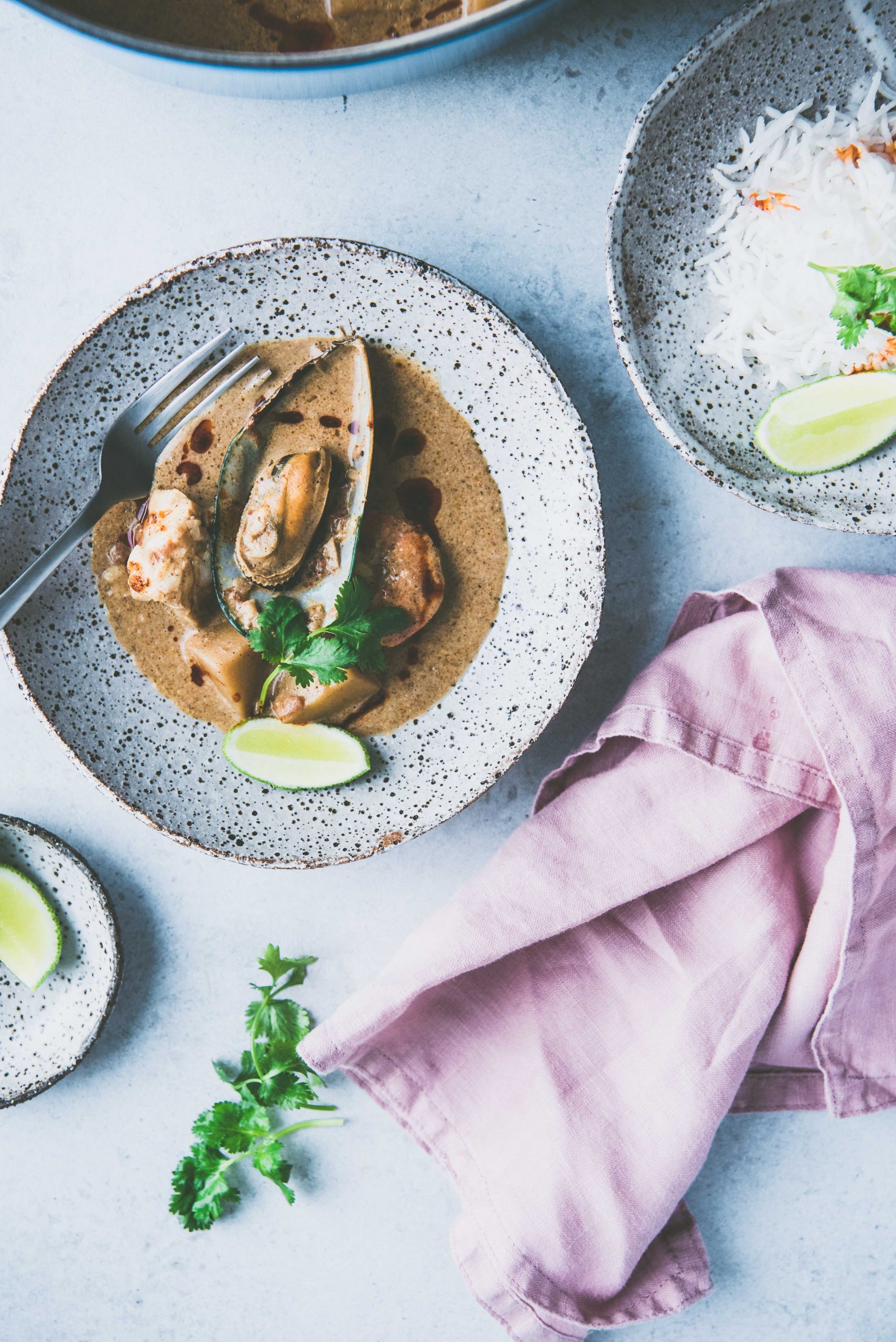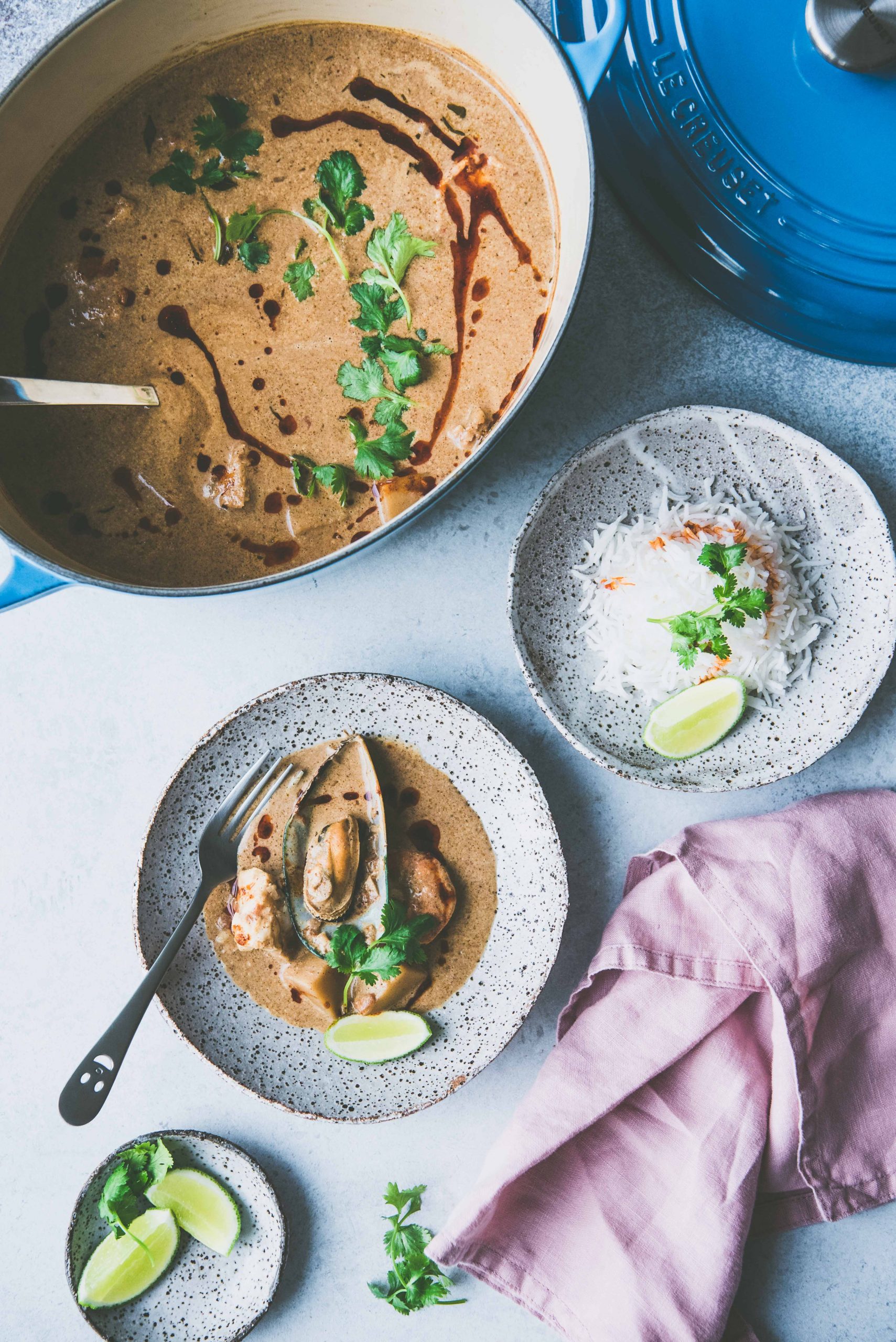 Mix Seafood Curry
This Mix Seafood Curry is made with Halibut, prawns and mussels.
Ingredients
200

g

halibut

cut in squares

150

g

mussels

150

g

prawns

deshelled

2

nos

boiled potatoes

cut in squares

1

nos

onion

finely diced

2

nos

small tomatoes

finely diced

2

cloves

garlic

minced

1/2

cup

Thai sweet tamarind paste

2

nos

kaffir lime leaves

1

nos

lemongrass stalk

400

ml

coconut milk

3/4

cup

water

1

tbsp

coriander stalks

chopped

1

tbsp

Kashmiri red chilli powder

1

tbsp

vegetable oil

salt to taste

coriander for garnishing

chilli oil garnishing (optional)

see notes for details
Spice paste
1 1/2

tbsp

coriander seeds

1

mace

8

cloves

3

star anise

3

black cardamoms

3

green cardamoms

6

dry red chillies

1 1/2

tsp

a mix of black and green pepper

If you can't find green replace it with black pepper.

1/2

tsp

fennel seeds

2

cloves

garlic

2

tbsp

white vinegar
Instructions
Roast all the spices for 3-4 minutes. Grind them to a fine powder, add in the vinegar, 2 cloves of garlic and blitz it up to a fine paste. Marinate the prawns and fish with 1/2 tsp of this paste and keep it aside for 15-20 minutes.

Heat oil in a heavy pot add in the onion, kaffir lime leaves and lemongrass stick. Saute the onion till it softens.

Add in the rest of the garlic, red chilli powder, spice paste, tomatoes, coriander stalks and cook till the onion is nice and brown, tomatoes are cooked and release oil.

Now tip the mussels in, saute till they open. Fish them out with a slotted spoon and keep it aside.

Add in the boiled potatoes and toss them well with the masala.

Add in the salt, coconut milk, tamarind water and water, bring it to a gentle boil. Adjust the seasoning.

Add in the prawns, fish and the mussels and cook for 4-5 minutes till they are cooked.

Garnish with fresh coriander and chilli oil if you prefer. Serve hot with plain rice.
Chef's tips:
To release more flavour from lemongrass, bruise it with the back of the knife.
To get more flavour from kaffir lime leaves you can cut them finely like chiffonade cut. Watch the video to learn more.
After cooking, you can fish out the lemongrass and kaffir lime leaves if you like.
For chilli oil- Heat 2 tsp oil in a heavy pan, when the oil is hot add in 1 tsp of Kashmiri red chilli powder. Turn the gas off and let it sit for 5 minutes. Use this oil for garnishing.