This "Pumpkin Golden Soup" is utterly delicious and perfect for those cold winter nights!
I came back from a cold skiing holiday, and even though there is no chill in the air here, I was still craving for a bowl of soup! 
If you scroll internet these days, almost every single thing will have this wonder root, "Turmeric". From Turmeric lattes to juices to golden milk to smoothies, you will find this trend going very strong. I am yet to join that Turmeric Milk bandwagon, but I thought why not create a recipe using this ingredient, and it is how this "Pumpkin Golden Soup" came about. 
Since my childhood I quite disliked milk and when it comes to Turmeric Milk or Golden milk, the fancy word for our Indian "Haldi che doodh" was something I could never stand. The smell of milk would make me gag and believe you me; it was always given to me when I was sick. So when I see the new trend of Golden Milk, all I remember is me poorly, coughing and sniffling. But that doesn't mean that I don't yearn for fresh Turmeric! 
I was thinking of using fresh turmeric root in different recipes, and I thought since I can't have the turmeric milk, why not create a Soup recipe instead so I created this "Pumpkin Golden Soup". 
Since I was adding fresh Turmeric in this soup, I thought of adding some fresh Asian ingredients and trust me I did justice to it. 
This Pumpkin, Turmeric Soup is packed with delicious flavours, it has that dreamy creamy texture, and it is delicious. 
As promised in my Thermomix Recipe Post, I am posting the stovetop recipe. 
So this is how you make this beauty!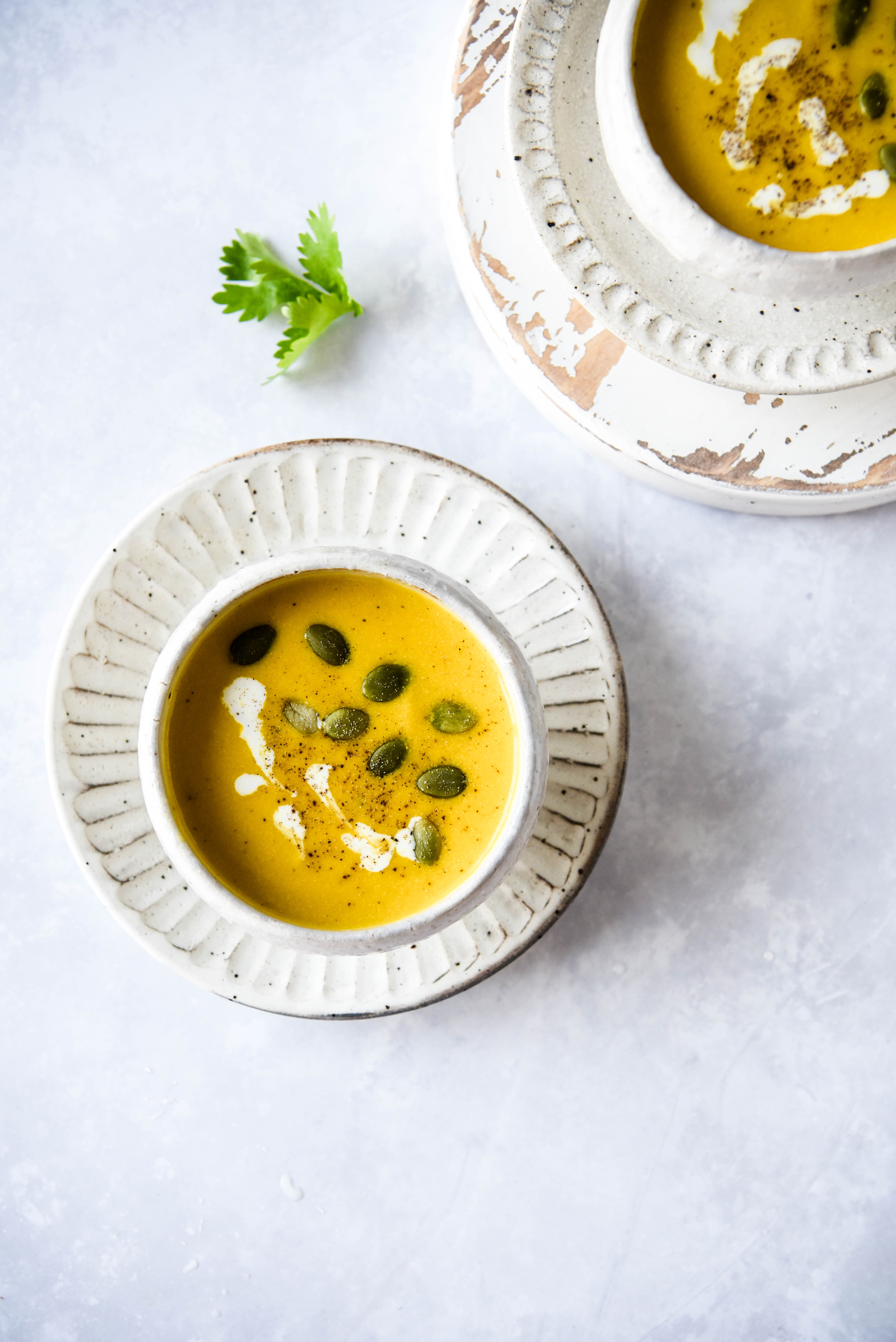 Pumpkin Golden Soup
This delicious Pumpkin Golden Soup is vegan, gluten-free and a perfect dish if you are watching your calories.
Ingredients
500

g

pumpkin

cut in chunks, I used kabocha pumpkin

2

cloves

garlic

roughly crushed

1

inch

turmeric root

cut in pieces

1/2

inch

gingerroot

cut in pieces

1

tbsp

coriander stalks

chopped

1

nos

or to taste red chilli

chopped

1/2

tsp

crushed black pepper

1/4

tsp

nutmeg powder

optional

50

g

cashew nuts

75

ml

coconut milk

700

ml

water

10

ml

coconut oil

salt to taste

1

tbsp

sunflower seeds

for garnishing
Instructions
In a saucepot, heat oil, add in the garlic and saute for 2 minutes. 

Add in the ginger, coriander stalks, pumpkin cubes and turmeric root. Cook for 10-15 minutes until it turns golden. 

Add in the water, cashew nuts, all the spice powders except nutmeg powder. Cook for 10 minutes or till the pumpkin is tender. 

Make a puree using an immersion blender or high-speed blender

Add the soup back in the pot, add the coconut milk and nutmeg powder. 

Bring the soup to a gentle boil. 

Serve it in a bowl, garnish the soup with coconut milk and sunflower seeds.