Who doesn't like one-pot meals which are balanced, delicious and simple?
Lentil, sundried tomato one-pot pasta is one of those recipes I have been making for years and it is a family favourite!
My love for pasta started when I moved to Tokyo back in 2007. Being a strict vegetarian but an adventurous cook and food lover I had very few options when I would go out to restaurants. I explored many Italian restaurants in Tokyo and most of them blew me away with their pasta and pizzas. Being that said, often the restaurant pasta dishes are made with classic sauces but I like to experiment with my dishes. Lentil, sundried tomato one-pot pasta is one of those recipes I developed on a busy weeknight and we love it for so many reasons.
Lentil, sundried tomato one-pot pasta ticks all the boxes, it is healthy and full of flavours.
This Lentil, sundried tomato one-pot pasta is made with fresh tomatoes and sundried tomatoes so it has that beautiful tang and sweetness to it. I like to add a bit of sour creme or creme fraiche to give that luxurious creaminess to this pasta and it has walnuts to give that one more layer of texture.
Lentil, sundried tomato one-pot pasta can be vegan and gluten-free too!
You can make this pasta completely vegan by skipping the sour cream and it is just as delicious, don't believe on my account try it to believe it.  If you are using gluten-free pasta, please reduce the water proportion as the gluten-free pasta cooks in much less time and doesn't need a lot of liquid.
Lentil, sundried tomato one-pot pasta and grilled chicken or fish, a win-win combination.
Serve this Lentil, sundried tomato one-pot pasta with lamb chops or grilled chicken or a simple fish. Make this on Sunday brunch, it is an effortlessly delicious combination.
If you are pasta lover, check these recipes out: Tata cliq pasta recipes by Chef Gayatri
So let's get to the recipe.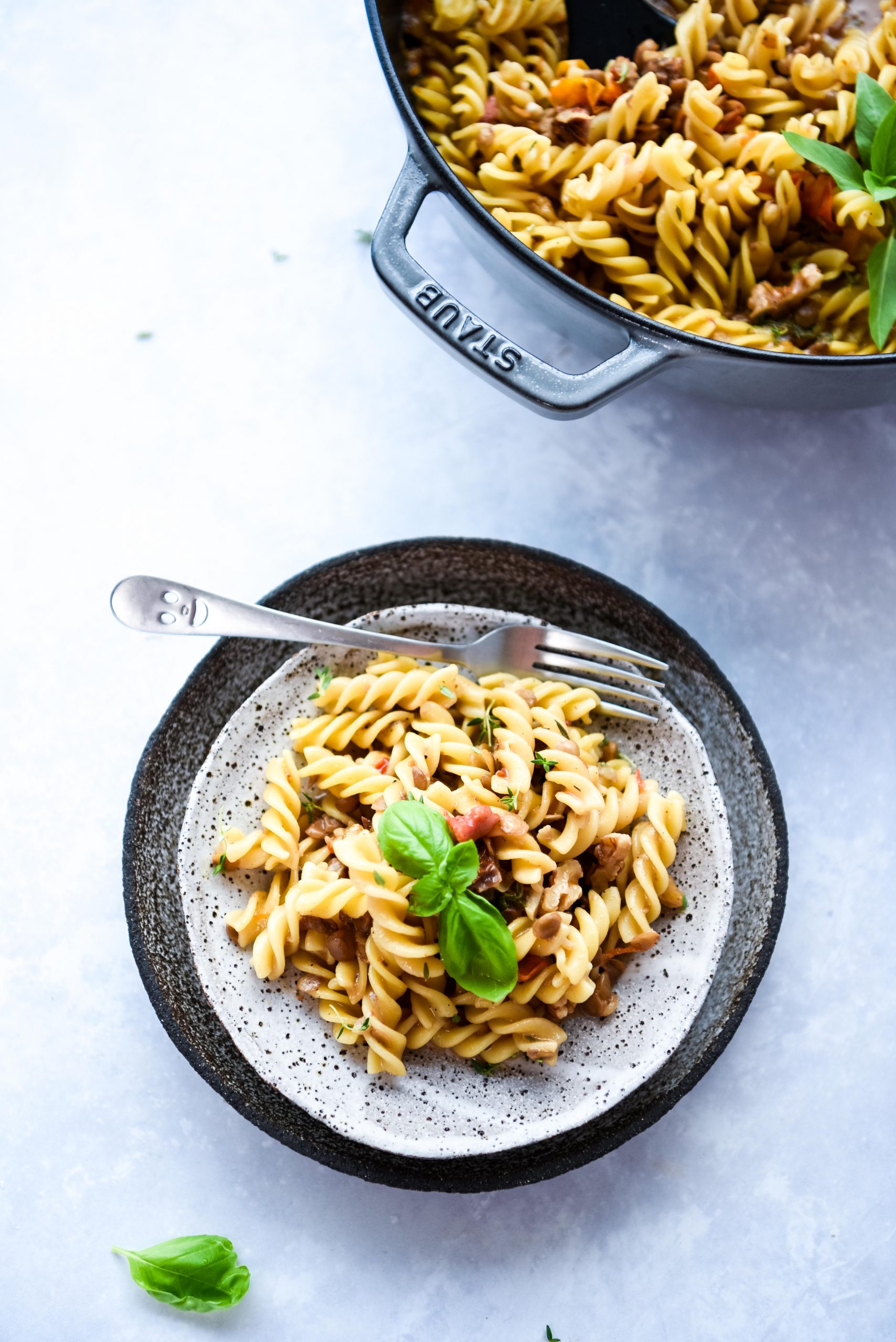 Lentil, sundried tomato one-pot pasta
One-pot meal for busy weeknights! Try this full of flavour and texture pasta.
Ingredients
250

g

your choice of pasta

1

can

brown lentils

washed and strained

1/4

cup

sundried tomatoes

chopped

1/4

cup

walnuts

chopped

3

tbsp

sour cream or creme fraiche

1

tbsp

vegetarian stock paste or cube

20

cherry tomatoes ( I used yellow and red)

cut in halves

4

cloves

garlic

sliced

2

or to taste red chilli

sliced or chopped

1

tsp

thyme

A

few

whole red chillies (dried)

(optional)

700

ml

water

2

tbsp

oil from sundried tomato or olive oil

salt and crushed black pepper

to taste
Instructions
In a heavy pot heat olive oil and sundried tomato oil. Once hot add in the dried chilli, garlic. Saute till the garlic is golden brown.

Tip in the chopped chillies and tomatoes. Mix it well and cook for 2-3 minutes.

Now add in the sundried tomatoes, vegetarian stock paste, salt and mix well. Add in the water, cover the pot and let is come to a rolling boil.

Tip in the pasta and cook till the pasta is 80% done. Stir the pasta so it doesn't stick to the bottom. Check the pasta packet, if the pasta cooks in 7-8 minutes then cook for 5 minutes.

Add in the sour cream and lentils. Mix it well with the pasta and cook for more 2 minutes.

Add in the crushed black pepper, thyme and walnuts, give it a final mix. Adjust salt if needed, garnish the pasta with parmesan and fresh herbs.