Caution- This Roasted Cauliflower is highly addictive, and you are going to love it!
I have to admit cauliflower is not my most favourite vegetable when it comes to cooking, especially these days when most vegetables lose their flavour because they are always available despite any season. Cauliflower has that nutty, buttery flavour if appropriately cooked it comes out and perhaps this Roasted Cauliflower hits that mark for me. 
Serving suggestions for this Roasted Cauliflower!
Albeit it isn't my favourite vegetable to "cook" but roast, oh big yes to that people! This Roasted Cauliflower, I have created for you is going to be your go-to when you make Grilled Chicken. It is also an excellent accompaniment for Roast Lamb, Grilled Fish or Vegetarian Polenta, Pilaf.
It's a Vegan and Gluten-Free Roasted Cauliflower Recipe!
One of the things I wanted to do when I was developing a Roasted Cauliflower recipe was, I wanted to keep it vegan. How did I do it? I am glad you asked! When I embarked on my (trying out) veganism venture, I learnt many fascinating things from my experiments. Nut butter and seeds are your best friends, and they give a fantastic taste and texture to your dishes. 
Tahini and spice-laden Roasted Cauliflower! 
So to give that creamy texture to this Roasted Cauliflower, I added tahini, lashings of garlic and my unique secret spice blend which is not so secret now, isn't it! 
How to pair this Roasted Cauliflower?
I love pairing this dish with my Roasted Chicken with Rice, Hummus and I posted that on my Instagram, people loved it.
So this is how you make this uber flavourful, Roasted Cauliflower!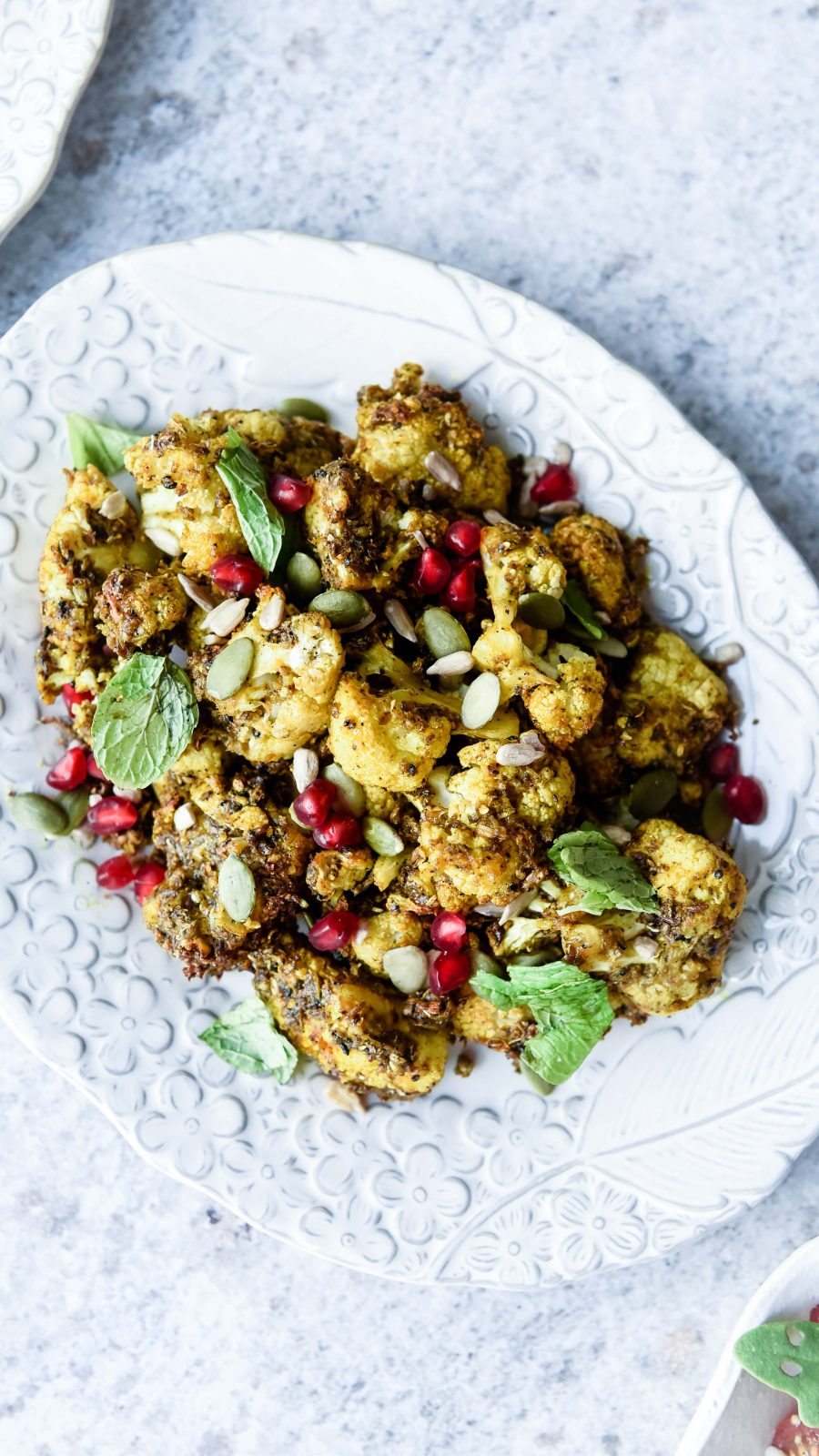 Roasted Cauliflower
This Roasted Cauliflower is a good accompaniment for grilled chicken, lamb roast or fish. It is a vegan recipe flavoured with tahini.
Ingredients
450

g

cauliflower cut in florets

5

cloves

garlic

1

tbsp

coriander seeds

1

tsp

nigella seeds

3

pods

cardamom

1

tsp

green peppercorn

dried, used 1/2 tsp red if you can't find green.

1/2

tsp

black peppercorn

1/2

tsp

turmeric powder

1

tsp

or to taste red chilli flakes

3

tbsp

tahini

1

tbsp

olive oil

salt to taste

a garnish of your choice
Instructions
Dry roast all the spices until they release the aroma.

Using pestle mortar crush all the spices coarsely, add in the garlic and crush it further until it is all incorporated.

In mixing bowl, add in the spice-garlic mix, followed by turmeric, red chilli flakes and salt.

Whisk the tahini and olive oil in. Make a smooth mixture.

Tip the cauliflower florets in the bowl. Toss it well so the cauliflower is nicely coated with the tahini mixture.

Marinate it for 15 minutes.

Preheat the oven on 220C/ 425F. Tip the marinated cauliflower in a roasting tray.

Roast it for 25-30 minutes or until the cauliflower is tender.

In the last 5 minute turn the oven setting to grill or broil setting to get some colour on them, (optional).

Garnish with sunflowers seeds, fresh coriander and pomegranate seeds if you wish. Serve hot.