"Muddi Palya" or Mudda Bhaji, a preparation of pigeon peas, fresh fenugreek and spinach is just delectable!
Muddi Palya is one dish; I remember having on most festivals in my house. Being originated from Karnataka, South India, our family followed a classic festival menu, and this was one of the essential dishes on it. Muddi Palya, Katachi Aamti and Puran Poli were considered a sacred menu, especially on Mahalakshmi festival. 
Muddi Palya with Garlic, Chilli Tempering! 
Even though this was considered a holy dish, we would often have it on Sundays, and since it wasn't cooked on a festive day, my mum would add lashings of garlic in it. But there is never too much garlic in our home so we would make a tempering of chilli, garlic and red chilli powder which we call phodni. That is must for Muddi Palya! 
Serving idesa for Muddi Palya. 
My mum would always serve Muddi Palya with fresh of the tava (pan) 3 fold poli (roti) with a little bit of ghee on it, ahh that's a divine combination! And there was always steamed rice and simple varan (moong dal) with mustard seeds and asafoetida tempering. Trust me, it is all so simple but genuinely a wholesome meal! 
So this is how you make this Muddi Palya!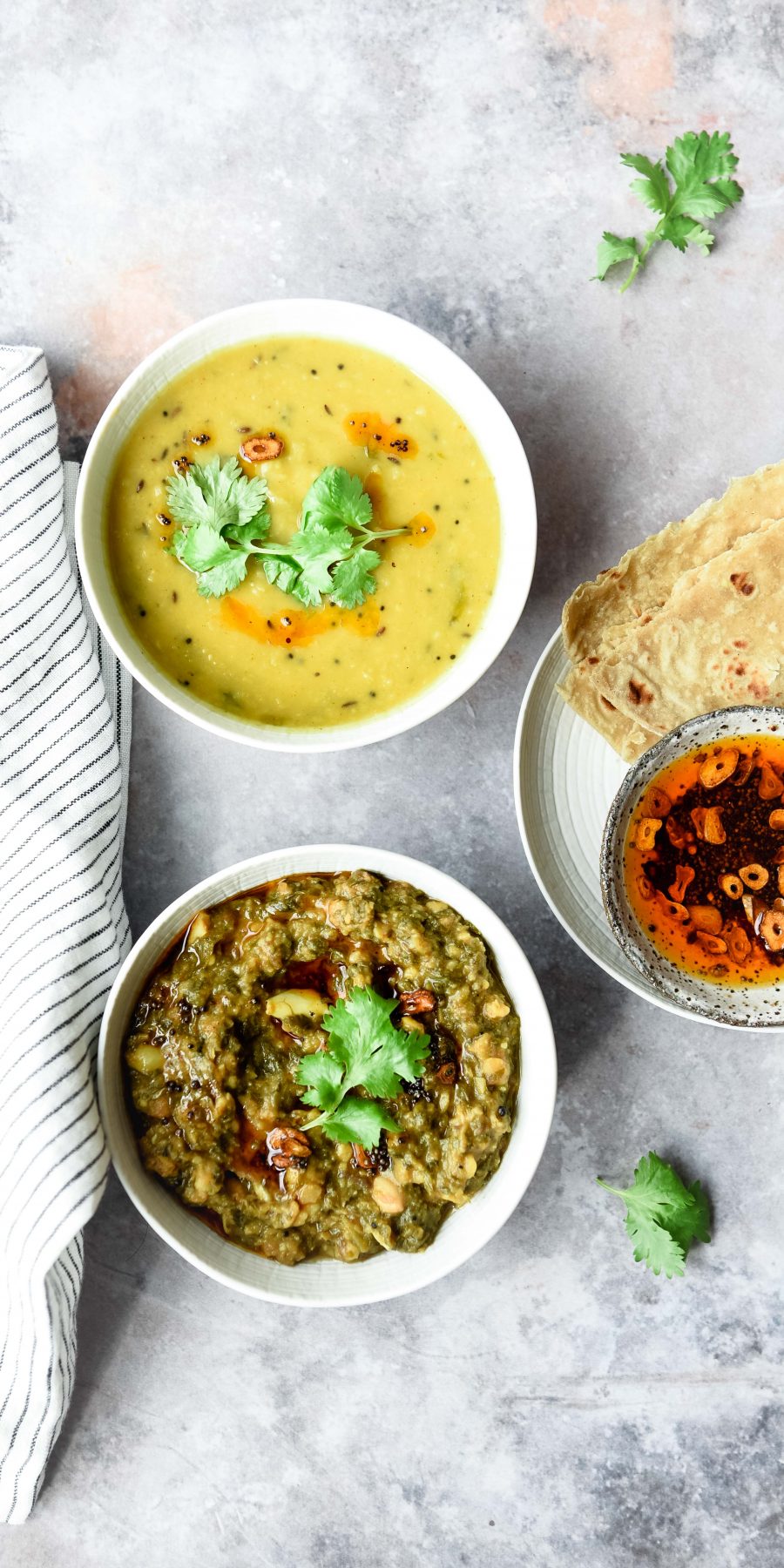 Muddi Palya
A dish made of spinach, fenugreek and pigeon peas.
Ingredients
1

cup

Pigeon peas (toor dal)

2

cups

spinach

chopped

1 1/2

cups

fenugreek

chopped

1/2

cup

raw groundnuts

60

g

chickpea flour (besan)

30

g

tamarind pulp

(2 tbsp) or to taste

4

cloves

garlic

crushed

1

tbsp

green chilli paste

to taste

1/2

tsp

turmeric powder

1

tsp

red chilli powder

to taste

salt to taste

water

to cook

1

tbsp

groundnut oil
For Phodni (Tempering):
2

tsp

groundnut oil

1

tsp

mustard seeds

4

cloves

garlic

sliced

1

tsp

red chilli powder
Instructions
In a thick pot add in 2 cups of water and pigeon peas with a little salt and turmeric powder. Once the lentils are halfway cooked add in the groundnuts and cook the lentils are cooked but not mushy. They should hold their shape. 

If the water dries out, add some water. After cooking it shouldn't be too watery. 

Whilst the lentils are cooking, heat oil in another pan. Add in the curry leaves, garlic and saute for 2-3 minutes. Add in the turmeric powder, spinach and fenugreek, wilt for 1 minute. 

Add 1/2 cup lukewarm water, cover and cook for 2 minutes. Add the cooked lentils to the greens, mix it well. 

Add in the green chilli paste and chickpea flour, start whisking it, so it is not lumpy. Add some water, so the dish to make the consistency like a thick gravy. 

Add in the tamarind paste and cook for 5-7 minutes on low, medium heat. Mix well. 

Garnish the dish with the garlic tempering and serve hot with rotis. 
For Phodni (Tempering)
Heat oil and add in the mustard seeds. Let them splutter and add in the garlic, let them turn golden brown but not burnt. Turn the gas off, add in the red chilli powder. Keep it aside for garnishing.