I grew up in a family of foodies and my mum is an extraordinary cook who used to create recipes from any ingredient possible! One of her favourite things was to make chutney of any leftover vegetables and vegetable peels or stems, I always adored that quality of hers because she never wasted any food. She would use leftover curries, dal and chutneys to make different types of rotis and I always loved everything she came up with.
The chutney recipe I am sharing today is based on her Andhra style chilli, onion chutney. Andhra Pradesh is a state in South India where the food is spicy, tangy and pungent, I love every dish from this state. I first got introduced to this cuisine in my childhood, my aunt's family is from there and she used to make some spicy dishes which will knock your socks off.  Yesterday I was remembering the good old childhood days and the memories of all that delicious food came rushing in my mind so I made this spicy Andhra style chutney.  Serve this chutney with roti, rice and some curry.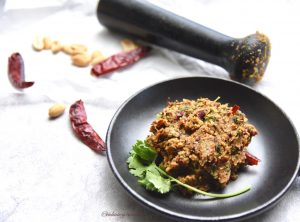 Ingredients:
1 onion diced

6-7 or to your taste dried red chillies

¼ cup roasted peanuts

5 garlic cloves chopped

1 tbsp fresh coriander

1 tsp cumin seeds

1 tbsp tamarind pulp or 1 tsp dry mango powder

Salt to taste

½ tbsp oil
Instructions:
In a wok, heat oil and add onion, garlic. Sauté for 2-3 minutes. Add in the red chillies and roasted peanuts, keep stirring it for 7-8 minutes, till the onion is golden brown in colour. Now add in the coriander, cumin seeds and tamarind pulp. Sauté for 2 more minutes.
Place the ingredients in a mortar pestle and make a coarse chutney. You can also use a blender or food processor to make this chutney.