This Portuguese chicken is succulent, spicy and a flavour bomb! I am not big fan of chicken because I think chicken is very fibrous, has no taste at all and sometimes it becomes too dry if not cooked well. But let me tell you, if you have similar thoughts then you have got to try this recipe.
Long time ago I watched a lady on some travel cooking channel making Portuguese chicken and I loved some of the ingredients she put in the marination and one of the ingredient was whiskey! Yes you read it right, it was whiskey and over the years I developed my own recipe using scotch and let me tell you the smokiness of the scotch, ahhh it takes this bird to the next level.  This time I used a very special scotch, I used Port Charlotte PC12 Oileanach Furachail, it's a Islay single malt, it was our Sayonara gift when we left Tokyo. You can use any single malt or scotch but not bourbon.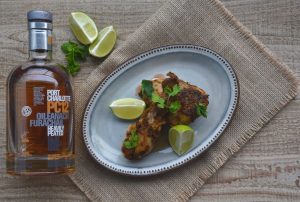 So try this recipe and serve it with my gnarly basil, fennel roasted potatoes  and impress your friends!
Ingredients:
1 small chicken or leg and thigh pieces

¼ cup fresh coriander

1 tsp fresh thyme leaves

1 tsp fresh oregano leaves

½  tsp cumin seeds

1 tbsp smoked paprika

2 thai bird's eye or hot chillies (optional)

3 cloves of garlic

2 tbsp scotch

1 big knob of butter

1 tbsp olive oil

½ lime

Salt and pepper to taste
Directions:
In a pestle mortar add chilli, cumin seeds, garlic, coriander, thyme and oregano. Pound it to a paste, add in the smoked paprika, lime juice and scotch. Mix it well and rub this on the chicken with a good amount of butter, salt and pepper. Keep it in the fridge for at least an hour but I keep mine for 2 hours.
Preheat the oven on 200C/400F. Place the marinated chicken in the roasting tray and roast it for 30-40 minutes or till the chicken is totally cooked and browned.
Garnish with fresh coriander and serve hot!