"Sambar" a delightful lentil soup recipe from South India usually served with idli, dosa and vadas.
Making Sambar with my homemade sambar masala is not only therapeutic but also soul-satisfying for me. Idli sambar on a Sunday morning with fresh coconut chutney is my favourite brunch, it is healthy, gluten-free and it is vegan and that what makes it utterly delicious, guilt-free brunch.
This Sambar is made with many vegetables, and that is the way we like to eat it!
I like to add cauliflower, potatoes, radish, aubergine and ladies fingers (okra) in my Sambar but you can add vegetables of your choice!
Do you add onions and garlic to the "Sambar"? Hmm, delicious or oh not?
Well, that is how my mum always made Sambar at home, with lashing of garlic, onions, curry leaves and loads of ginger! Trust me with my homemade masala and all these ingredients, and your tastebuds will be dancing!
I like to make my Sambar with 1/2 ratio of pigeon peas (toor dal) and mung lentils to keep it light however traditionally it's made with pigeon peas. I like to add tamarind to give that tangy taste if you can't find Indian tamarind you can replace it with lime or lemon juice or Thai tamarind. You can also add a small piece of jaggery to balance the acidity, but I prefer the tangy taste.
After I did a live telecast on my Instagram there were many requests for the full recipe so I thought of adding a step by step Sambar recipe.
So this is how you make this Sambar recipe!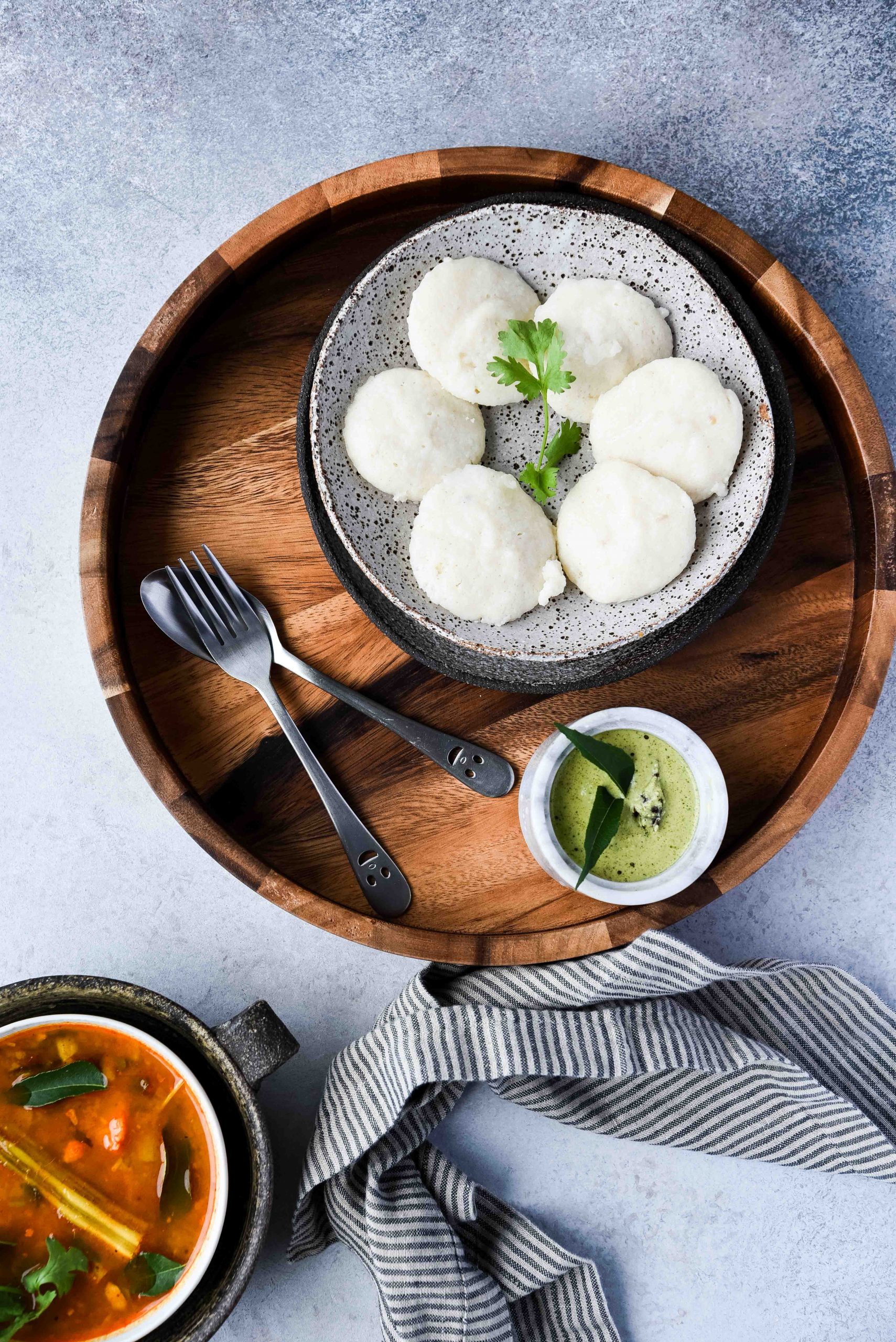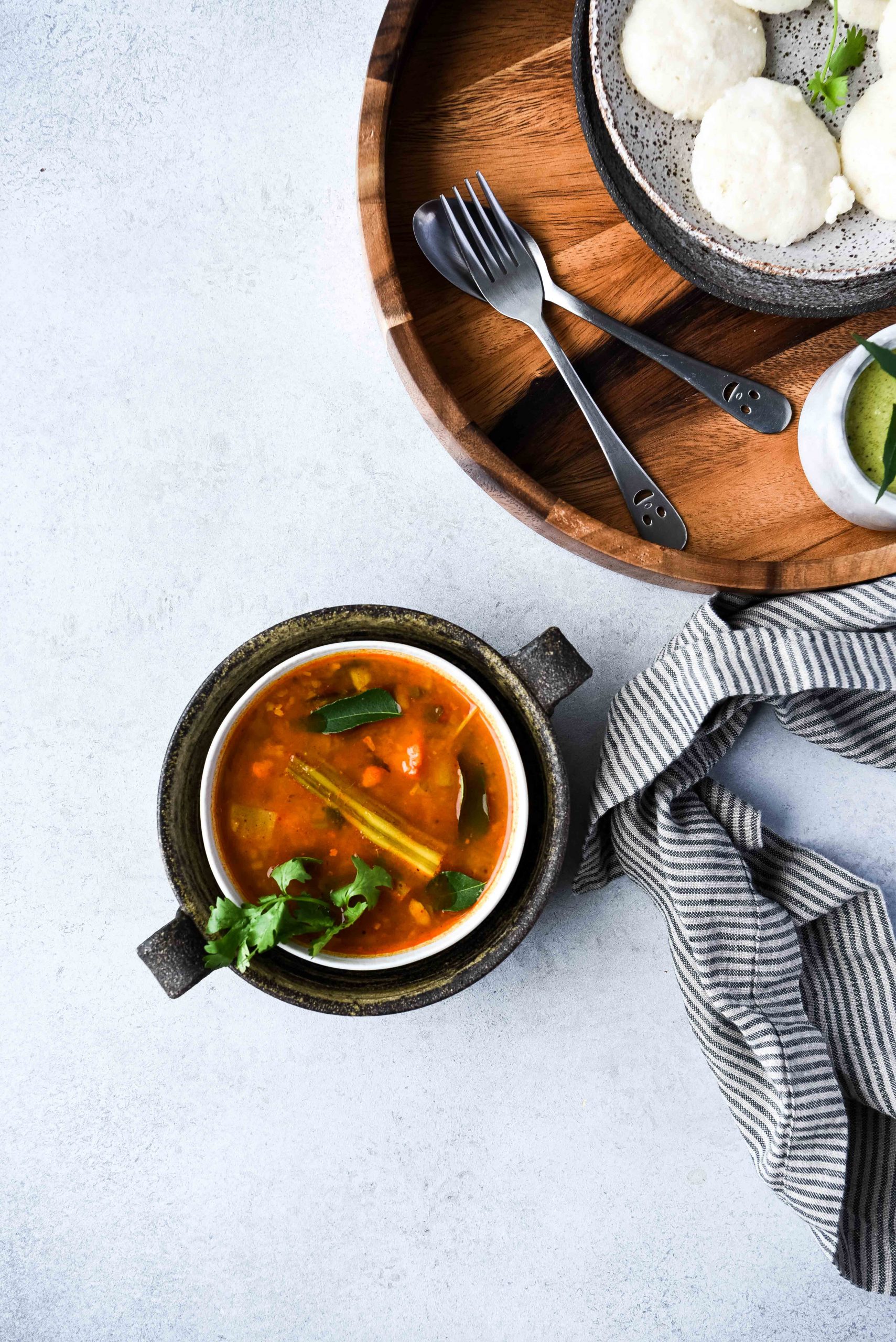 Chefs tips:
You can add vegetables such as aubergine, ladies fingers (okra).
You can make this sambar just with toor dal.
If you don't want to make sambar masala at home, try brands such as Everest, MDH.
If you can't find tamarind, use lemon or lime juice.
Sambar
A delicious gluten-free, vegan Sambar recipe to serve with Idli, dosa or vadas.
Ingredients
Sambar Masala
1 1/2

cup

coriander seeds

10

nos

dried chillies

2

tsp

turmeric powder

1

tbsp

chana dal (chick-pea lentils)

1

tbsp

urad dal

1

tbsp

toor dal (piegon peas)

1

tbsp

black peppercorns

1

tbsp

cumin seeds

1

tbsp

fenugreek seeds

2

tsp

mustard seeds

1/2

tsp

asafoetida

4

sprigs

curry leaves
Ingredients for Sambar:
1/4

cup

mung lentils

1/2

cup

pigeon peas (toor dal)

1

onion

diced

1

inch

ginger

crushed

4

cloves

garlic

crushed

1

cup

radish

diced (optional)

1

nos

tomato

diced

3

nos

boiled drumsticks

peeled and cut in 2 inch pieces

1

nos

potato

medium diced

2

tbsp

sambar masala

1

piece

tamarind

1

tsp

jaggery powder

optional

1/2

tsp

mustard seeds

1

piece

dried chilli

1

tsp

or to taste red chilli powder

A

few

curry leaves

2

tsp

oil

salt to taste

1 1/2

cup

water

coriander

for garnishing
Instructions
Instructions for masala:
In a heavy-bottomed pan, dry roast the coriander seeds on a low flame until fragrant or light brown colour. Add the asafoetida to the coriander seeds and continue roasting for a few seconds or until fragrant. Transfer it to a plate. Add the turmeric powder to the roasted coriander seeds and let it cool.

Dry roast the curry leaves until crisp. Keep them aside.Then roast the red chillies for a few seconds and keep them aside.Dry roast all the ingredients one by one until they are light golden brown in colour and fragrant.Let them cool completely.

Grind the roasted ingredients into a fine powder.Let the ground powder cool completely and store in an airtight container.
Instructions for sambar:
Soak the tamarind in water and squeeze well to extract the juice and set aside.

Pressure cook the rinsed moong and pigeon lentils with 2 cups water for 3 whistles or boil in 5 cups of water till it's cooked. Mash the cooked dal and set aside.

Heat oil in a pot, add in the mustard seeds, fenugreek seeds and let them splutter. Add in the asafoetida and cumin seeds. Add in half of the curry leaves, onions and garlic. Saute for 2-3 minutes. 

Now add in the potatoes, radish, drumsticks, and cook till the potatoes are halfway cooked. Now add in the red chilli powder, sambar masala and salt.

Saute for 2 more minutes. Now add the mashed lentils, jaggery, tomatoes, tamarind and water.

Boil the sambar for 5 minutes and then add the green peas and let it boil for another for 5 minutes. Garnish with coriander and serve hot with idlis.