Even though I don't like to eat chicken I love to cook it, I think any spice or any flavour you add in the chicken preparation it absorbs it really well. My husband enjoys anything made of chicken and I like to create new dished for him.
I came up with this recipe, when I made Tandoori Chicken Tikka for him and he couldn't eat it right away because he was talking on the phone, can you believe it? 😉 (can't find the smily for angry expression). So after an hour when I had 4 pieces of chicken on my kitchen counter, looking dull and soggy I thought why not make a gravy using those pieces and yes that's how I came up with this recipe.
I made this chicken with a lot ingredients but you can always skip those to make it easy. This curry goes really well with roti (flatbread) or rice.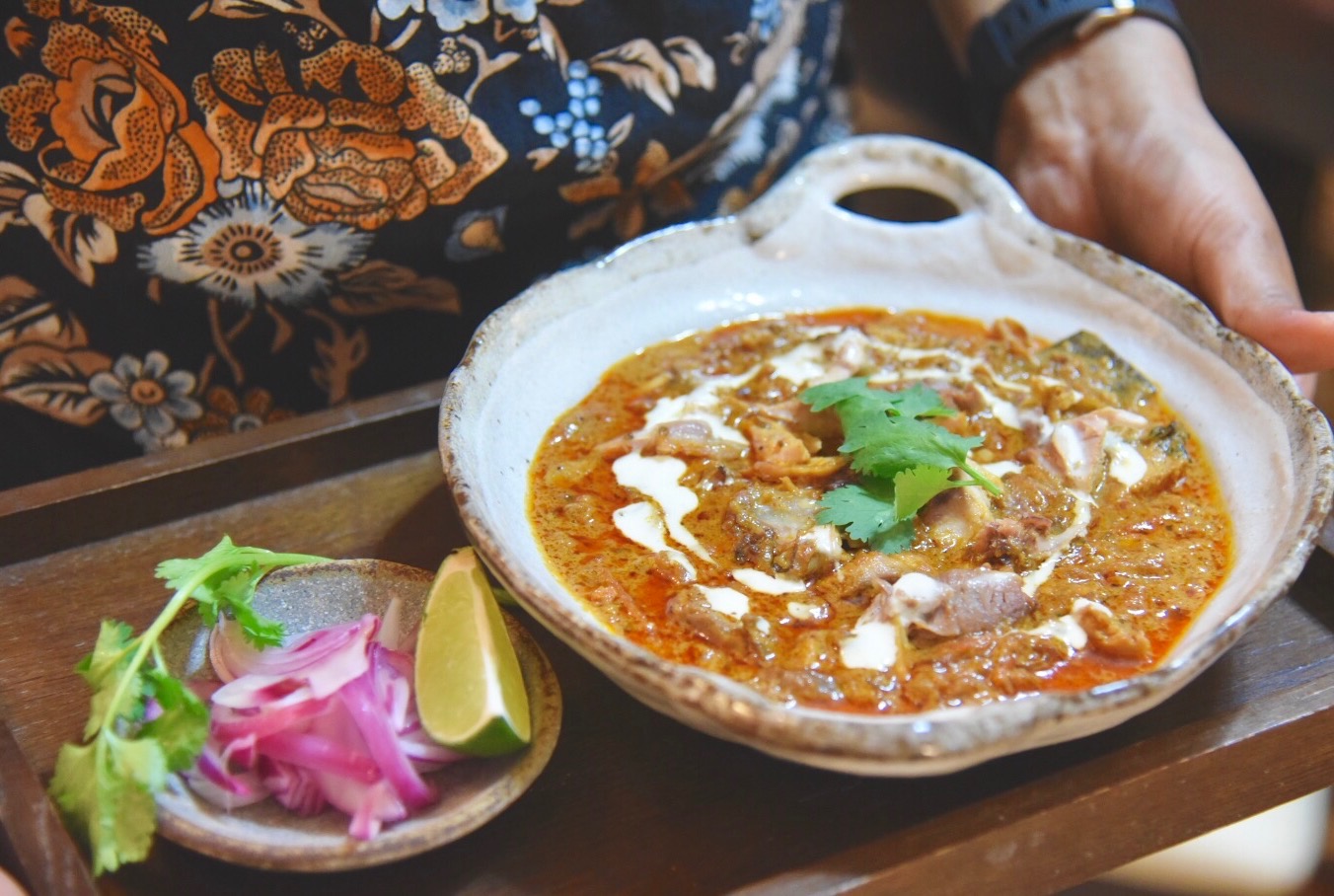 Ingredients:
3-4 chicken legs skinned
1 tbsp thick yoghurt
2 tsp ea coriander powder and garam masala
1 tsp or to taste red chilli powder
1 tsp red paprika for the colour
1 tsp kasoori methi or dried fenugreek leaves
2 tbsp butter cut in pieces
1 tsp ea ginger garlic paste
Marinate the chicken in the above ingredients for at least 2 hours and grill it in preheated oven on 210 Celsius for 20-25 mins. Shred the chicken from the bones and keep it aside. Alternatively you can just marinate the chicken in yoghurt, ginger garlic paste and black pepper powder and grill it too.
Ingredients for the curry:
2 medium onion finely sliced
2 tomatoes roughly chopped
1 inch ginger
3 garlic cloves
1 tsp fennel seeds
⅓ tsp caraway seeds
1 small piece of mace
1 dried chilli
2 cloves
A few peppercorns
2 tbsp yoghurt
2 tsp coriander powder
2 tsp or to taste red chilli powder
½ tsp turmeric powder
A few bay leaves and green cardamom
1 tsp dried fenugreek leaves
2-3 tbsp mustard oil
1 tsp ghee
¼ cup or as needed water
Salt to taste
Coriander for garnishing
Directions:
In a wok or pan heat mustard oil, add the bay leaves and cardamom. Add the onion and sauté till they are golden in colour.
In mortar and pestle, add the ginger, garlic, mace, fennel seeds caraway seeds, cloves, peppercorns and chilli. Pound it to make a paste. Add this paste in the onions and sauté till the onions are brown in colour.
Now add the yoghurt, tomato, salt and all the spice powders. Sauté till the tomatoes are cooked and all the water is evaporated from yoghurt.
Now add the shredded chicken, water and adjust salt.
Bring it to a boil, add in the ghee and dried fenugreek leaves (Kasoori methi).
Cover for 2 minutes.
Garnish with coriander and serve hot!