Three bean salad is one of the most easiest salads, it's simple, nutritious, economical and very versatile. You can dress this salad with whatever ingredients you may have in your pantry and you can store in in the fridge for a few days.
I served this salad with my My Mexican Coriander Rice a few nights ago for dinner and it was a fully protein packed dinner. You can cook the 3 different types of beans at home but to make your life easier why not buy a canned beans from market! I made it with  canned beans however, to make it healthier I soaked them in cold water for 10 minutes and washed them for 5-6 times to get rid of that canned taste.  It's my take on this quintessentially simple crowd pleaser salad recipe and I really hope you will give it a try.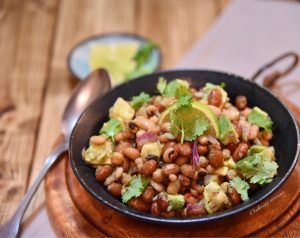 Ingredients:
1 can of mixed beans

1 onion finely chopped

1 jalapeno or fresno chilli

1 avocado diced

¼ cup coriander leaves

¼ cup mint leaves

1 small clove of garlic

½ inch ginger

1 tbsp lime juice

1 tsp white wine vinegar

Salt, black pepper and chilli flakes to taste

1 tsp olive oil
Directions:
Soak the beans for 10 minutes and wash them for 5-6 times, strain them and dry them.
In a food processor place coriander, mint, garlic, ginger and chilli, make it to a paste. Mix lime juice, white wine vinegar and oil to this paste.
Mix the beans and onions together, pour the paste over the beans. Toss it well and garnish with avocado and coriander!