Over the weekend we had some dear friends over for the first time since we have moved to Singapore and I wanted to make something really special and some thing new for them. Even though I have a full functioning kitchen up and running I am still not very well settled and don't have many ingredients for elaborate cooking so I came up with these kebab recipe with whatever ingredients I had in my pantry.
When I developed this recipe, I wasn't very sure how they are going to be in texture but let me tell you these were incredibly soft so I decided to name them Vegetarian Malai Kebab. I served these with spicy tomato ketchup but you can serve them with fresh coriander chutney.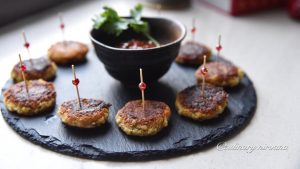 Ingredients:
1 cup grated paneer

1 big potato grated

½ cup milk powder

1 inch ginger finely chopped

1 or to taste green chilli finely chopped

1 onion finely chopped

1 tsp ea garam masala and chaat masala

Handful of coriander finely chopped

1 tbsp rice powder

Salt to taste

Oil or butter to shallow fry
Directions:
Mix everything together and make small flat kebabs.
Shallow fry them in oil till they are golden brown, serve them hot with ketchup or coriander chutney.