I absolutely love South Indian cuisine and specially the different varieties of  amazingly flavourful rice dishes like Puliogre, Chitrannam or Bisiballeanna! Growing up I spent most of my summer holidays in Karnataka where my family is originally from, my aunts used to make everyday a different type of rice dishI.  didn't like rice so much back then so I didn't enjoy most of those dishes. Now I am married to a North Indian who loves rice more than roti so I started cooking all those dishes for him and Chitrannam or Lemon Rice is one of our favourite dishes.
Chitrannam was usually made on auspicious days or weddings and it was made without onion, garlic but I have tweaked the recipe a bit according to my husband's taste.
It's a very flavourful and incredibly easy to make recipe. You can make it with the leftover rice as well. Do give it a try! 🙂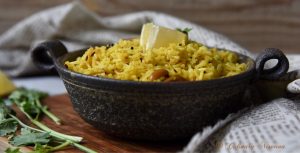 Ingredients:
1 1/2 cups cooked rice

1 onion thinly sliced (optional)

2-3 green chillies chopped. Adjust according to your taste. Also I chop mine very fine, that way the dish becomes spicy.

1/2 inch ginger finely chopped

1 sprig of curry leaf

1/2 lemon squeezed

1 tsp lemon zest (optional) but do add it, gives an amazing aroma.

1 fresh or dried red chilli

1 1/2 tsp dried white lentils. ( Split urad dal)

1/2 tsp asafoetida. (Hing)

1 tsp turmeric powder

1 tsp black pepper powder

1 tsp cumin seeds

1 1/2 tsp white sesame seeds

1 tsp mustard seeds

5-6 black peppercorns

2 tbsp chopped cashew nuts

few fenugreek seeds

Salt to taste

2 tsp vegetable oil

Freshly chopped coriander for garnishing

1/2 inch ginger julienne (Optional)
Directions:
In a large pan, heat oil add white lentils and let it turn golden in colour. Add fenugreek seeds, dried red chilli, mustard seeds and cashew nuts. Let the mustard seeds splutter, then add in the asafoetida, cumin seeds, sesame seeds, curry leaves, peppercorns. Sauté for 20 seconds.
Add in the onions, turmeric powder and salt. Sauté for 1 minute. Add in the chopped ginger, green chilli and black pepper. Sauté till the onions become golden brown.
Add in the cooked rice and sprinkle some water to loosen up the rice. Fry this mixture for 2-3 minutes or till everything is nicely incorporated. Add in the lemon zest and lemon juice. Toss it well.
Garnish it with fresh coriander and julienne ginger. Serve hot with your favourite pickle or as is!
Enjoy!!