"Methi Paneer Kofta" does that sound delicious or what?
I love making koftas, and they can be an excellent addition to any simple meals and what is better than a healthy kofta, right? These Methi Paneer Kofta are light, low in fat and full of delicious flavours; they taste fantastic with rice and roti both. I served this Methi Paneer Kofta with lentils parathas, and it was a great combination.
The Methi Paneer Kofta recipe is not only easy to make but very customisable.
Methi or fresh fenugreek leaves are often difficult to find outside India and South Asia, so I wanted to create a recipe which is simple and customisable. This Methi Paneer Kofta recipe can be made with spinach, kale or even amaranth leaves. However, try to make this dish with fresh fenugreek leaves; it tastes the best.
Methi Paneer Kofta is made with one of the easiest and tastiest gravy bases!
As much as I love Kofta curries, one of the things I dislike is the overuse of fresh cream and nuts. I wanted to create a creamies gravy but without using these two ingredients. Trust me; you will love the texture of the curry; it is made with onion, tomatoes and milk. If you are following a vegan lifestyle, replace the milk with coconut or soy or almond milk. I would use coconut milk; it gives a nice texture and nuttiness to the gravy. You can replace paneer with tofu or potatoes too to keep it vegan.
This Methi Paneer kofta is not deep-fried, and that's why they are healthy.
I seldom fry things in my house, and as I mentioned, I wanted to keep this recipe healthy so to make the koftas, I used favourite Paniyaram pan. These Paniyaram or aebleskiver or takoyaki pans come in handy for so many recipes; I used to to make meatballs, all sorts of vadas and kofta.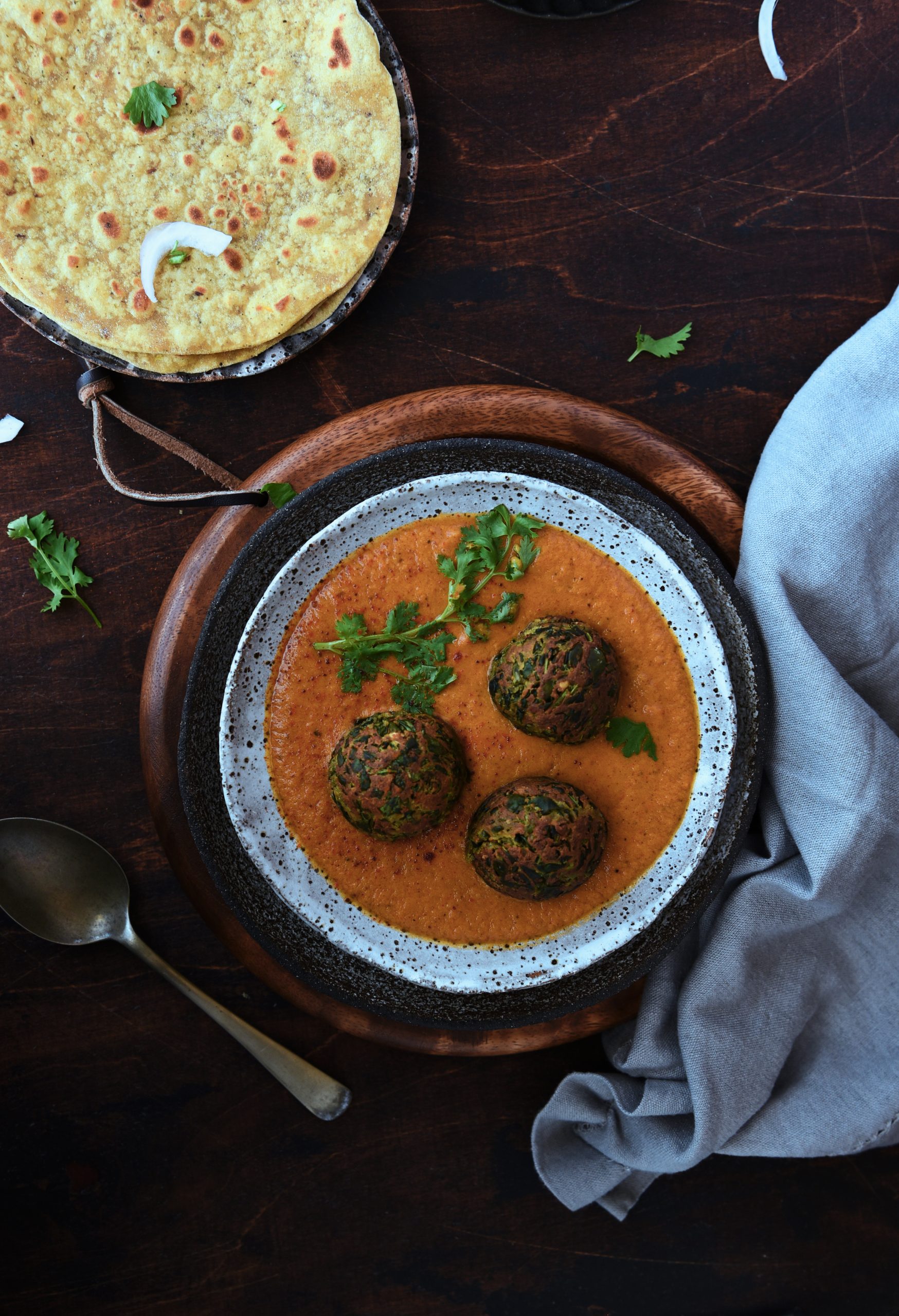 How to serve Methi Paneer Kofta?
I served these beauties with my leftover lentil parathas, but you can serve it a simple roti, parathas or steamed rice. You can pair this Methi Paneer Kofta with a simple onion salad with a squeeze of lime and sprinkle of salt.
If you like Indian dishes, do check these recipes out.
Methi Paneer Kofta
Healthy Methi Paneer Kofta- a gluten-free and easy recipe.
Ingredients
For Kofta:
200

g

trimmed methi (fenugreek) leaves

roughly chopped

250

g

paneer

crushed

2

cloves

garlic

grated

1/2

inch

ginger

grated

1

or

to taste red or green chilli

finely chopped

1

tbsp

fresh coriander

chopped

1

tsp

garam masala

1/2

tsp

each red chilli powder and salt

1/2

tsp

each black pepper powder and chaat masala

4

tbsp

chickpea flour or besan

2

tbsp

tapioca starch or cornstarch

1

tbsp

rice flour

1

tbsp

oil
For Gravy:
1

large

onion

roughly chopped

3

medium

tomatoes

roughly chopped

1

inch

ginger

roughly chopped

4

cloves

garlic

roughly chopped

2

nos

or to taste green or red chillies

roughly chopped

1/2

tsp

cumin seeds

1

each

bay leaf and brown cardamom

2

green cardamom

1 1/2

cup

milk

1

tsp

garam masala

1

tbsp

coriander powder

1/2

tsp

or to taste each red chilli and black pepper powder

1/4

tsp

turmeric powder

1

tsp

or to taste salt

1 1/2

tbsp

oil

1

tbsp

fresh coriander

for garnishing
Instructions
For Koftas:
Make sure the methi leaves are properly drained and dry. Mix all the ingredients together to form a solid mass.

Oil your palms and make small balls (lime size). Oil the paniyaram or aebleskiver pan, fry the koftas from all sides till they are brown and crispy. Keep it aside.
For gravy:
In a heavy pot heat half of the oil and add cumin seeds, let them splutter. Add in the garlic and fry for a few seconds. Tip in the onion and saute for 5 minutes till it is golden.

Add in the chilli, ginger and tomatoes. Continue to saute for another 5 minutes. Let the mixture cool slightly, then make a fine paste.

In the same pot, heat rest of the oil. Add in the whole spices and let them splutter. Add in the fine paste, mix well. Add in all the salt, spice powders except garam masala and fry for 5 minutes.

Add some water if the paste starts burning. Now add the milk whilst stirring the gravy so it doesn't separate. Keep it on a low flame and simmer it for 5 minutes.

Just before serving, tip in the koftas and bring it to a gentle simmer. Make sure the koftas are hot before you add them to the gravy, that way you don't have to simmer them long in the gravy.

Garnish with fresh coriander and serve hot with parathas.