Coriander or cilantro as they say in North America 🙂 is my favourite herb in the world! I love everything with coriander, be it garnishing or cooking! Just a few days ago all I had in my fridge was a big bunch of coriander and fresno chillies and I thought of making this amazing Mexican Coriander Rice. I wanted to make this rice healthy so I mixed some brown rice in this recipe and it turned out really good.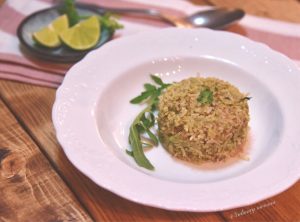 I made this rice with pre cooked rice but you can also cook the rice with the coriander paste. The recipe I am writing is for leftover cooked rice which in my opinion works best. So give it a try.
Ingredients:
1 cup white cooked rice

¼ cup brown cooked rice

1 onion finely chopped

1 onion cut in chunks

1 or to taste fresno chilli

1 cup fresh coriander leaves

1 tbsp fresh mint leaves

1 clove of garlic

1 tbsp lime juice

½ tsp cumin powder

Salt to taste

2 tsp oil
Directions:
Make a paste of onion, coriander, garlic, chilli and mint to a fine paste.
Heat oil and add finely chopped onion, sauté for 2-3 minutes. Add the coriander paste and continue sauté for 5 minutes.
Add rice, salt, cumin powder and mix it well. Cover it for 5 minutes.
Drizzle lemon juice and garnish with coriander leaves. Serve hot with beans!