Mushroom Spaghetti, one of those out of box recipes I have created!
I love pasta, all type of pasta made with different kinds of sauces, flavoured with new ingredients. I cook pasta at least twice a week for my family, and I love creating new recipes, so when I was thinking about this Mushroom Spaghetti, I wanted to create something new and something out of the box.
This Mushroom Spaghetti is made with spelt spaghetti.
Mushrooms and spelt is a combination you can't resist! The nuttiness of the spelt, the umami flavour of mushroom, the silkiness of cream and warm spices makes this pasta an absolute delight. You can use semolina or wheat spaghetti for this pasta, but I recommend using spelt, trust me it is the second secret ingredient for this Mushroom Spaghetti.
What makes this Mushroom Spaghetti so unique? What is the secret ingredient?
What makes this Mushroom Spaghetti so unusual and out of the box is that one ingredient which is usually associated with sweet dishes. Hang on to your hats, ladies and gentlemen, and it is flavoured with the "Vanilla Powder" and trust me, it tastes fantastic. To give that extra richness to pasta, I have used Sunflower Seed Oil, if you haven't used it, give this oil a try. It provides that luscious texture, a delicate nutty flavour and a beautiful flavour to dishes!
This Mushroom Spaghetti is a vegetarian recipe but very customisable one.
This mushroom spaghetti tastes excellent with grilled chicken or grilled flaked fish; you can also make this pasta completely vegan by replacing cream with oat milk or oat cream. Serve this pasta with garlic bread or my Black Garlic Bread, and it is a win-win combination.
If you like Pasta, try this Lentil Sun-dried Tomato Pasta. 
Let's get to the recipe!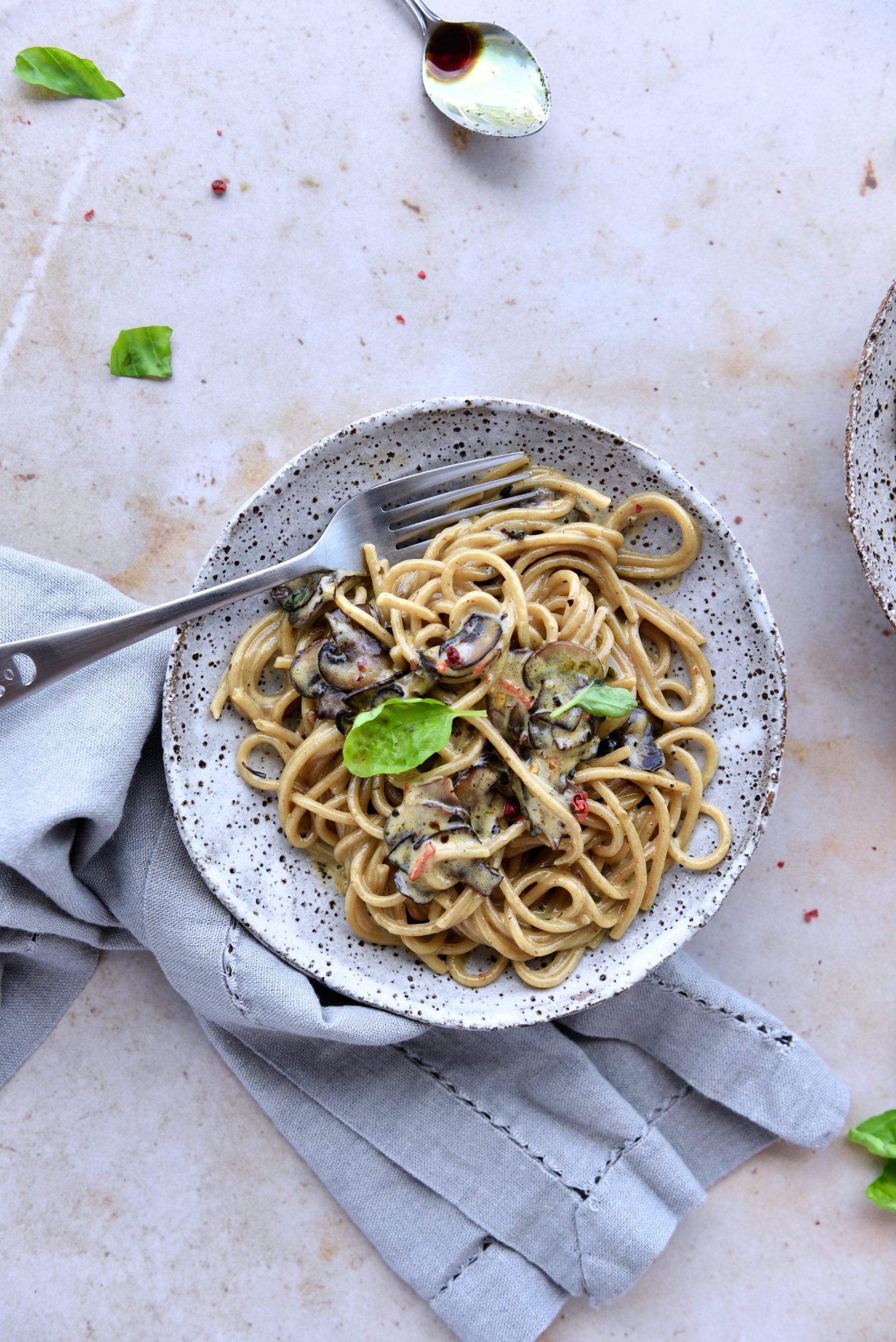 Mushroom Spaghetti
Try this out of the box Mushroom Spaghetti flavoured with vanilla powder and sunflower seed oil.
Ingredients
160

g

spelt spaghetti pasta

You can use pasta of your choice

200

g

brown button mushrooms

sliced

4

cloves

garlic

thinly sliced

2

nos

or to taste red chilli

deseeded and sliced

1

tbsp

fresh oregano

chopped

1

tbsp

basil leaves

1

nos

vegetable stock cube

Optional

1/3

cup

fresh cream

1/2

tsp

vanilla powder

use vanilla paste or vanilla bean flesh

1/4

tsp

nutmeg powder

1/2

tsp

crushed black, white and red pepper

used only black and white if you can't find red.

1

tsp

or to taste salt

1

tsp

Sunflower seed oil

1 1/2

tbsp

olive oil
Instructions
Cook pasta till it is slightly less than al dente, e.g. if the package instructions call for 9 minutes of cooking then cook it for 6 minutes. Drain the pasta reserving about 1 cup of pasta water. Wash the pasta with cold water so it doesn't stick.

Mix vegetable stock cube in the reserved pasta water.

Heat 2 tsp of olive oil in a big, heavy-bottomed pan. Tip in the mushrooms and saute for 5-7 minutes or till they are brown and crispy. Take it out and keep it aside.

In the same pot, add in the garlic. Saute till it's golden brown. Add in the chilli, fry for a few seconds and add half of the oregano. Tip in the browned mushroom, crushed pepper and mix it well. Saute for 2 minutes.

Stir in the cream, mix it well. Add in 2 tbsp of pasta water and simmer for 2 minutes. Add in the vanilla powder and cook for a few seconds. Grate the nutmeg in the sauce.

Tip in the cooked spaghetti, mix it well. Add some more pasta water. Cook the pasta for another 3 minutes or till the spaghetti is properly cooked.

Add in the rest of the oregano, roughly picked basil leaves. Mix it well. Add 1 tsp of the sunflower seed oil and stir it well.

Garnish the pasta with some herbs and serve hot.