Vegan chilli, no one gets excited by vegan and chilli, right? But trust me this Vegan chilli make you happy.
The usual Chilli recipe is loaded with meat and it is delicious but I am not a huge fan of red meat and I wanted to create something vegan, something delicious and quick.
My husband doesn't like anything vegan and he is a meat lover so I wasn't too sure how he is going to like this Chilli, but he absolutely loved it. The meaty texture in this dish I achieve with minced or mashed lentils, you can use tofu as well but I preferred lentils. This dish is made with canned beans because I wanted to keep it quick but you can certainly use fresh boiled beans.
I served this Chilli with Buckwheat or Kasha Pilaf but you can serve it with whatever you fancy.
Do give this recipe a try.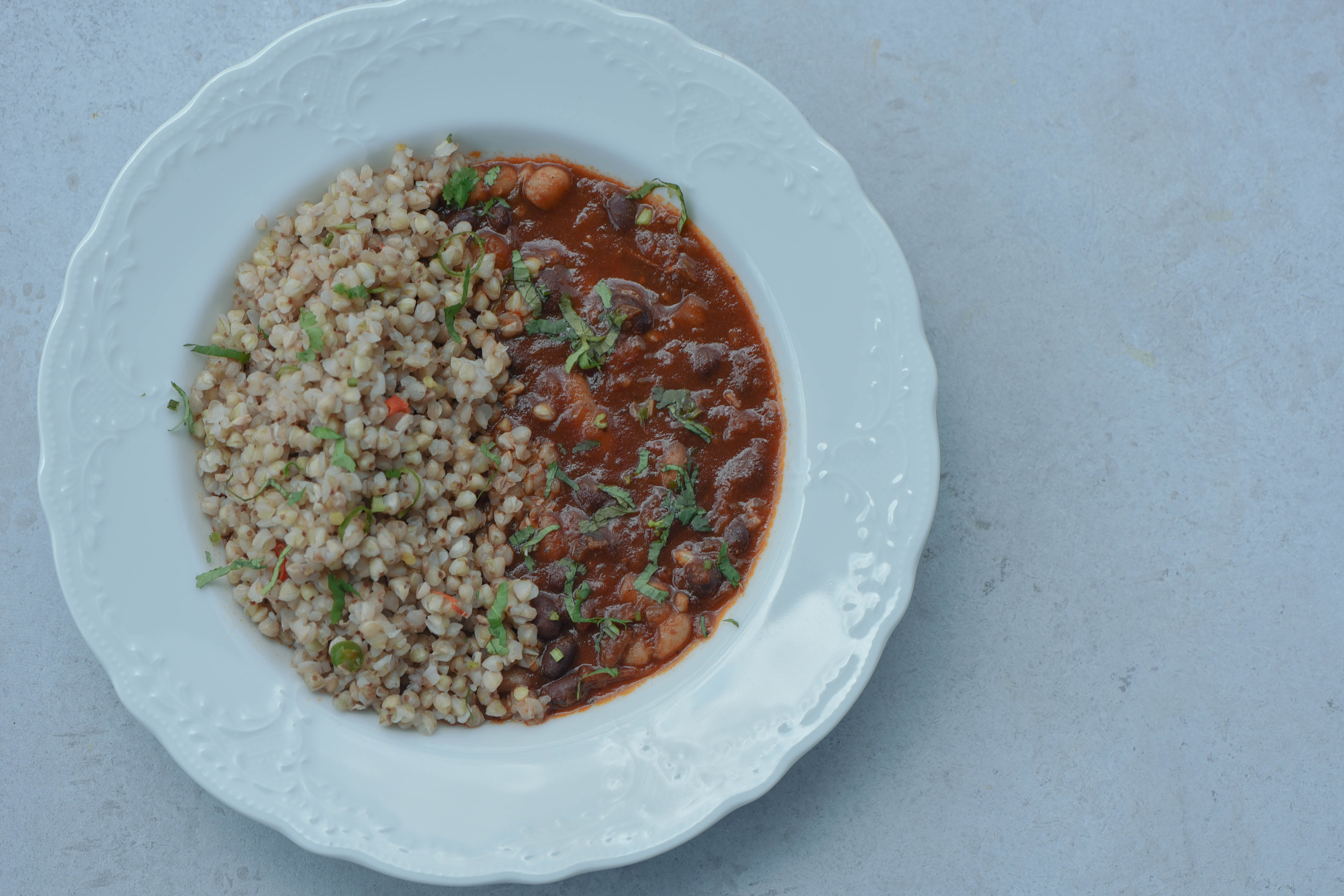 Ingredients:
1 onion finely chopped
1 can diced tomatoes
4 garlic finely chopped
1 can black beans
1 can cannellini Beans
1/2 cup crushed brown lentils or tofu
1/2 tsp clove powder
1 tsp paprika
1 tsp smoked paprika
1/2 tsp toasted cumin powder
1 tsp dried thyme and oregano
Salt to taste
1 tbsp olive oil
1 cup water
Instructions:
Rinse the both beans well for 5 minuets, strain it and keep it aside.
Heat oil, add onions and garlic, sauté 5 minuets. Add in the tomatoes, spice powders salt and herbs. Sauté till the tomatoes are cooked and oil is released (about 10 minutes).
Add in the crushed lentils or tofu, mix well. Add in the beans. Mix it well and add water.
Simmer for 5 minuets. Adjust salt and serve hot.
Ingredients (Kasha Pilaf):
1 cup kasha or buckwheat
1 onion finely sliced
4 cloves of garlic finely chopped
1 green chilli finely chopped
1/2 tsp black pepper powder
1/2 tsp red chilli powder
1/2 tsp lemon juice
Salt to taste
1 bay leaf and cinnamon stick
A few black peppercorns and cumin seeds
1 tsp olive oil
2 tsp butter
Instructions:
Cook buckwheat according to package instructions or cook it in 2 1/4 cups water with salt and olive oil. If there is water strain it. Fork it.
Heat butter and olive oil, add in the whole spices. Add in the onion and garlic, sauté for 5 minuets. Add in the chilli, spice powders, mix well.
Add in the cooked buckwheat, mix it well. Adjust salt and add lemon juice.
Serve hot with chilli or with grilled chicken or fish.