There are some combinations that never go wrong and one of them is crispy baked salmon with roasted potatoes! Potatoes are so versatile, you can season them with so many different ingredients and this time I thought of roasting them with this unique rub I made of fennel seeds, basil and some more exciting ingredients. You can use this rub to bake fish or to roast chicken, in my opinion fennel and fish is the best combination.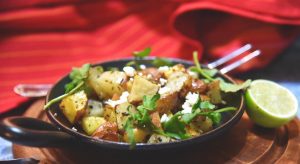 There are so many different types of potatoes and it's a bit tricky to know which ones are better for roasting. I find baby red potatoes, yukon gold and maris piper the best for roasting, they crisp from outside and will be fluffy from inside. When you want to achieve the perfect crispy spuds, dressing them in only oil or butter isn't just enough. If I am using baby red potatoes, I keep the skin on and I soak them for 10 minutes in cold water, and then I roast them, for yukon gold or maris piper I wash them in cold water and parboil them for 5-8 minutes, dry them and then I roast them, it never fails! Another thing which helps is cut all the pieces in one size, when I was culinary school my first chef always used to emphasise on cut evenly cooks evenly!
Ingredients:
1 kg baby red potatoes

½ cup fresh basil leaves

¼ cup coriander leaves

2 tsp black peppercorns

1 tbsp fennel seeds

1 clove of garlic

1 tbsp lemon juice

1 tbsp dijon grainy mustard

Salt to taste

A big knob of butter

1 tbsp olive oil

Some feta cheese for garnishing (optional)
Directions:
Wash and brush the potatoes in cold water. Cut them in about 5 cm size and soak them in cold water for 10 minutes. Preheat the oven on 190C/375F.
In pestle mortar, pound basil, coriander leaves, fennel seeds, peppercorn and garlic in a rough paste.
Add the dijon mustard, salt, lemon juice, butter to this rub. Dress the potatoes in this rub and place them in roasting tray and drizzle oil.
Roast them in a preheated oven for 20-25 minutes for baby red potatoes, for others par boiled yukon or maris piper bake them for about 30-40 minutes.
Garnish them with feta cheese and serve them hot!